We have partnered with the Institute of Food Technologists (IFT ) to offer a joint international membership to food science and technology professionals.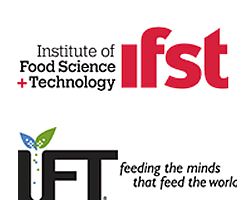 This membership is ideal for anyone who wants to:
Access an international network of like-minded professionals
Receive up-to-date and trusted information on the latest developments and innovations in food science and technology
Get access to job opportunities and international connections
As a joint member, you will be able to take advantage of the following:
IFST Member benefits
Enhance your status and stand out from the crowd as a member of a professional body (MIFST, FIFST) in the UK and Europe
Gain professional recognition as a Food Safety Professional, Food Auditor or Mentor, Registered Sensory Scientist, Chartered Scientist, Registered Scientist or Registered Science Technician
Get the latest news from Food Science & Technology Magazine (quarterly - online & print)
Free online access to International Journal of Food Science & Technology and discounted rates for the print version
Connect with a network of professionals through networks and communities 
IFT Member benefits 
Exclusive member discounts to IFT annual event and expo
Access to the digital version of Food Technology magazine
Connect with the British Section IFT, including member-only Section events and activities
Complimentary access to valuable professional and career resources developed by IFT, including member-only content and tools on ift.org, all live and on-demand IFT webcasts, and IFT Connect, IFT's online networking and discussion community
Face-to-face and virtual networking opportunities with an international community of food professionals
Certified Food Scientist (CFS) application fees and recertification, online courses, short courses, the Journal of Food Science (JFS), IFT Press books, and more
Exemptions
Existing IFT members:  This offer is available to IFT members for a fee, plus the relevant IFST subscription rate. To take advantage of this offer, professional, emeritus, and emeritus professional members would be required to become standard IFT members, which will result in a change of membership dues, benefits, and privileges.
Existing IFST members: This offer is available only to members residing in the UK who are Full Associates, Members and Fellows (excludes students, postgraduates and anyone part of a Group Membership Scheme).
If you would like more information, please contact the Membership Team.