26 September, FSA, Clarendon Rd, Belfast BT
Camilla Alexander-White, RSC Senior Policy Advisor – Environment & Regulation
Camilla Alexander-White is a Eurotox Registered Toxicologist, Chartered Chemist and Fellow of the Royal Society of Chemistry with over 20 years' experience in chemical safety assessment. After obtaining a DPhil in Chemistry at the University of York, Camilla developed her experience as a toxicologist at Imperial College London (1996-2000), Unilever's Safety & Environmental Assurance Centre (2000-2010), Environment Agency (England & Wales)(2010-2012) and Ramboll Environ (2012-2016). Camilla is an experienced consultant chemical risk assessor and strategist, and she specialises in preparing and reviewing safety dossiers for consumer goods (foods and cosmetics) and environmental (air, land and water) contaminants. Camilla operates internationally and has led the safety evaluation strategy for global market-critical cosmetics ingredients and performed advocacy work at senior level in the EU. Camilla participates in European task forces, and is a toxicologist on UK government scientific committees, such as the FSA Advisory Committee on Novel Foods and Processes (ACNFP). She is a key player in the Defra Category 4 Screening Level (C4SL) project for the development of a novel framework for assessing land contaminants. Camilla currently has a role as a senior policy advisor at the Royal Society of Chemistry, where she prepares and presents objective scientific evidence on chemical regulation for policy development.
Michael Bell, Executive Director of Northern Ireland Food and Drink Association (NIFDA), IFST Vice President
Michael has over thirty-four years' experience in the food industry and has been the Executive Director of Northern Ireland Food and Drink Association (NIFDA) for over 22 years. He previously worked in Northern Ireland and Malta for twelve years working closely with major retailers and was a member of the Board of Ormeau Bakery.
Michael has an honours Degree in Food Science and is a Fellow of Institute of Food Science and Technology (FIFST) and a Chartered (Food) Scientist (CSci). He is a Fellow of the Institute of Directors (FIoD) and is a Chartered Director (C Dir) He also has a Leaders in Industry Programme Food and Drink Manufacturing sector award from Queen's University, Belfast. Michael is Chairman of the Northern Ireland Agricultural Research and Development Council (Agrisearch) and a member of Safefood Expert Advisory Committee.
In addition, Michael is a member of the Northern Ireland Food and Feed Advisory panel for the Food Standards Agency Northern Ireland and a board member of Agri-Quest - the Food Innovation Competence Centre. In his spare time, he enjoys sailing, hill walking as well as good food and drink.
Dominic Darby - Director, Titanic Consulting 
A BSc Food Science graduate from QUB, Dominic has been working in the food industry for over 12 years both in Northern Ireland and in Great Britain. Starting on his university placement programme, Dominic worked for M&S head office in London for over 7 years as a Food Technologist specialising in added value meat and prepared meals before returning to Belfast to work in their supply base. It was in his role as head of Technical and Innovation at Finnebrogue, an artisan SME, that he continued to work with M&S and other retailers on own label and branded products.
After completing an MSc in Agri-Food Business Development, Dominic branched out into a new career path where he was Group Business Development Manager for Ireland's largest private owned food business, The Queally Group. Most recently Dominic's entrepreneurial spirit saw him start his own business in which he specialises in food science and innovation based consultancy with clients such as M&S and other private food manufacturers. Dominic is an active member of IFST and, as well as sitting on the NI branch committee, has represented the organisation at Lead 360, an international food leadership programme in America hosted by IFT.
Michael Jackson, FSA Head of Regulatory Standards and Assurance, Regulating our Future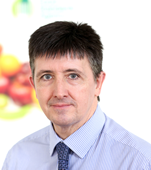 In November 2017 Michael was appointed to the position of Head of Regulatory Standards and Assurance working full time on the FSA's Regulating Our Future Programme. Michael is leading the teams developing the new target operating model for food law regulation in England, Wales and Northern Ireland and is Chair of the Professions Expert Advisory Group. Prior to moving to this programme Michael was Head of Local Authority Policy and Delivery within the FSA's Northern Ireland office.
Since joining the team at the FSA in NI in 2002, Michael has been responsible for developing a wide range of legislation and policy in relation to food safety and food standards and in his most recent post had responsibility for oversight of delivery of food official controls delivered by district councils in NI. Michael has been involved with development of the UK's Food Hygiene Rating Scheme since 2009 and recently led a project to make display of ratings at food establishments a statutory requirement in Northern Ireland. Michael has also been working closely with the new district councils in Northern Ireland, created in April 2015 following a programme of Local Government Reform, to build new arrangements for co-ordination and liaison and to develop an outcomes framework for the food service in Northern Ireland.
He obtained an Honours Degree in Environmental Health from the University of Ulster in 1985 and has worked for over thirty years in the NI public sector, predominantly in the area of food safety.  Prior to joining the Food Standards Agency he worked in Belfast City Council where he managed the Food Safety Team.
Michael is a Member of the Chartered Institute of Environmental Health.
Trudy McMurray, RSC NI Chair
Trudy is a Senior Scientific Officer with the Northern Ireland Environment Agency (NIEA) and currently manages the Inorganic Chemistry and Trace Metals teams within the Water Chemistry Group.  Her main focus is to provide the scientific evidence needed to inform NIEA regulatory processes designed to protect NI's aquatic environment and for reporting to a wide variety of regulations including the Water Framework Directive, Pollution Prevention and Control (Industrial Emissions) and the Water Order (NI) 1999.
The early part of her career was spent gaining experience in complex instrumentation for the analysis of metal contaminants and ultra-trace organic pollutants in environmental samples with expertise in method development, validation, accreditation to ISO17025, water quality, environmental awareness and assessment.  
Trudy started out developing her expertise in analytical chemistry during her university placement investigating the bio metabolism of novel drug compounds with Glaxo Wellcome R&D, UK.  After graduating with a degree in Biochemical Science, Trudy undertook a PhD in Chemistry at the Ulster University where her research focused on the application of Titanium Dioxide photocatalysis towards the removal of chemical pollutants, in particular pesticides from drinking water supplies.  Trudy remained as a post-doctoral researcher for a number of years, gaining further experience in analytical chemistry while also having the opportunity to develop skills in securing intellectual property and the commercialisation of photocatalytic technology.
Trudy is a member of the Royal Society of Chemistry (RSC) and Royal Society (RSB) of Biology, holding both Chartered Chemist and Biologist status.  Trudy is currently Chair of the Royal Society of Chemistry Northern Ireland section (RSCNI) and a member of the Ireland Region Steering Group. 
Michael Walker – Consultant, LGC
Currently Michael is Head of the Office of the Government Chemist in LGC, Teddington, where he is also the Referee Analyst, involved in the resolution of technical appeals in the official food control system. Michael has a special interest in food allergy and allergen measurement and is a member of the European Academy of Allergy & Clinical Immunology. In parallel Michael has a thriving chemico-legal practice on the island of Ireland acting in both civil and criminal cases. He was a subject matter expert to the UK DH/Defra Elliott Review of the food supply chain.
Michael has extensive non-executive director experience including as a founder board member of the FSA and on the Board of AFBI. Author of over 60 scientific peer reviewed publications, Michael's background is in chemistry. As a Fellow of both IFST and RSC Michael contributes actively to both, he is a past Chair of IFST NI, serves on the IFST Science Committee and the RSC Analytical Division NI committee. Michael was resident Public Analyst in NI for 19 years before spending 2 years as Chief Executive of Forensic Science Northern Ireland.