Barbara Bray (MSc, FIFST, RNutr, MBE) runs her own consultancy business Alo Solutions Ltd driving and delivering food safety in food supply chains and improving nutritional quality of recipes and menus in the foodservice sector.
With a passion for educating people about food and nutrition, Barbara is a director of the Oxford Farming Conference, the leading international conference held in the UK for farming and agribusiness. She also sits on committees for both the Institute of Food Science and Technology and The Nutrition Society's Training Academy. She speaks at food and agriculture events and has recently contributed to debates at the UN Committee for Food Security in Rome on Youth and Women in Agriculture.
Prior to consultancy Barbara worked in the Ugandan agri-business sector for three years after graduation and then spent fourteen years in the chilled foods sector in the UK and France. Her roles covered food procurement, technical innovation and implementation of food safety systems as a Technical Manager with Bakkavor, an international food manufacturer.  She has a BSc (Hons) in Food Technology 1995, MSc Post Harvest Technology 1996, MSc Human Nutrition 2014 and is a registered nutritionist with the Association for Nutrition.
In 2017, Barbara was awarded a Nuffield Farming Scholarship and travelled on Global Focus programme to Singapore, Indonesia, Japan, Israel, UK and USA to study international food and farming systems.
Through her work in the agri-food sector and insights gained whilst travelling for her Nuffield Farming Scholarship programme, she realised the importance of mentoring as an effective tool to help others.
She is keen to have an opportunity to give advice, be a sounding board and to help people develop their knowledge and skills. She can add value by sharing a wide network of contacts and helping mentees gain a wider perspective of their profession.
She has found mentoring to be a mutually beneficial experience and very rewarding and looks forward to finding her next mentee.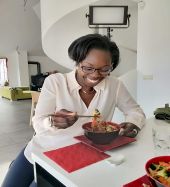 Contact method:
Email
Face-to-face
Skype (or similar)
Telephone