I studied food science at Leeds University and all of my roles, since graduating, have been in the food industry.
My first role was as a Technical Manager in a flour mill – responsible for the QA laboratory (testing the wheat and flour) as well as food safety on site and certification such as ISO, BRC and Investors in People.
I then became a technologist for the Yorkshire Regional Food Group, providing food safety and technical support to local food businesses.  This role was very similar to my current role as a food safety consultant.
As a consultant I work with many sectors of the food industry including manufacturing, retail, hospitality, trading, wholesale and distribution. My role is varied and includes internal and third-party auditing (including auditing on behalf of SALSA), food safety policy development, implementation and maintenance, pack artwork review, allergen management as well as delivering training in Food Safety, HACCP and Food Labelling.
The projects I enjoy the most are those where I mentor businesses.  Closely working with them to develop food safety systems and policies that meet the requirements of legislation as well as third party standards such as BRC and SALSA. There are always plenty of challenges and always solutions to be found.  The final policy is always tailored to the needs of the business and practical to implement.
Some aspects of food safety / food science can be difficult concepts to grasp and so it is particularly rewarding to leave the company with a greater understanding of food safety / food science.
I am really passionate about food safety.  It is such a diverse and fascinating subject that is becoming increasingly challenging as our food production requirements become more demanding.  I would love to be a LFLS mentor and play a part in encouraging students to become food scientists.
And what is your favourite food joke?
Two flies were on a cornflakes packet."Why are we running so fast?" asked one."Because," said the second, "it says 'tear along the dotted line'!"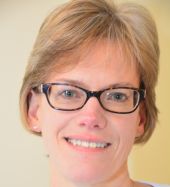 Contact method:
Email
Face-to-face
Skype (or similar)
Telephone