Since I can remember, I've always loved food!  When studying for my GCSE in Food Technology, a teacher explained to me why eggs change colour when cooked or are whipped to form meringue. I began to understand links between my science lessons and cooking… my fascination with the science of food began.
Later I went onto study for my Nutrition and Food Science BSc.  During University I spent a year in the food industry, working for a company which makes the soft drinks Ribena and Lucozade. One of my favourite research projects was squashing all of the different blackcurrant berries, and then assessing the juices for beneficial nutritional molecules. The conclusions helped to decide which crop varieties the farmers should fill their fields with in the future.
After University, I worked in a Secondary School Food Technology Classroom as a Technician- which I loved, but wanted to pursue a career in industry!
My 1st role in industry was as a Technologist at KP Snacks in the New Product Development team, creating new snacks and improving the current ones. I played a significant role in the development of new Hula Hoop, Pom Bear and nut mix products.
Today, 13 years on from taking my GCSEs I am an enthusiastic Application Flavourist currently working for Mane V.Fils, the French-based flavour house. My work is mainly focused on the creation of new Savoury Snack's seasonings for some of the UKs well-known snacks brands, alongside retail-own brands.
Every day I continue learning more about food science. I enjoy explaining the science behind our work, using simple terminology, to colleagues in different departments. I would like to have the opportunity to inspire future generations to develop a passion and potentially a career in an ever -changing yet essential industry.
Favourite Food Joke:
What did the cheese say when it looked in the mirror? Halloumi!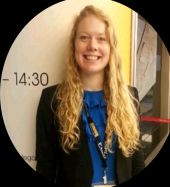 Specialism:
Carbohydrates
Fats and oils
Fruit and/or vegetables
Proteins
Raising agents
Contact method:
Email
Face-to-face
Skype (or similar)
Telephone