Hi, my name is Helen and I have been working in the food industry since graduating from university in 1999. My degree is in Food Quality and I have been a member of the IFST since my student years. I am currently working for Waitrose as a Technical Manager, looking after the beef, pork, lamb, veal & venison categories.
I have nearly 20 years experience in the food industry, from both a retailer and manufacturer perspective. Areas I have worked in include soft drinks, food microbiology, bakery, sandwich manufacture, eggs, ice cream and frozen desserts – in addition to my current role.
Areas that interest me are animal welfare, quality management systems and the use of new technology in food manufacture. This is my first time as a mentor and I am passionate about encouraging students to consider a career in food manufacture.
Favourite Food Joke?
What's the best cheese to hide a horse?
Mask-a-pony (mascarpone)!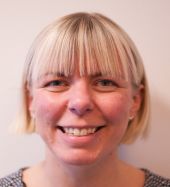 Contact method:
Email
Face-to-face
Telephone