I set up Alpha Omega Consultants in 2008 having previously worked for Mr. Kipling Cakes (Manor Bakeries) and Grove Turkeys (Kerry Group). I'm the author of the book "Money for Jam – the Essential Guide to Starting Your Own Small Food Business" which was published by Oaktree Press in 2013, and the 2nd Edition in 2017. I've mentored almost 300 food producers to date, from start-up to established businesses, everything from chocolates, bread, cakes, drink, beer, whiskey, jerky, eggs, icecream, you name it!  I love the enthusiasm for food producers, their passion for the food and their hard work ethic.
I'm a Fellow of both the Institute of Food Science & Technology (UK) and IFST(Ireland). I'm a Food Business Mentor with Enterprise Ireland and at least nine Local Enterprise Offices across the country. I lecture in EU and Irish Food Legislation and also deliver training programmes for food business development.
My specialisms include; Carbohydrates, Food Startups, Innovation Managment, Routes to Market, NPD.
…and what is your favourite food joke – What did the Mummy tomato say to the baby tomato when he was lagging behind? Ketchup!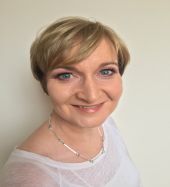 Contact method:
Email
Face-to-face
Skype (or similar)
Telephone