I have spent over 30 years in the food and agricultural sector, in technical, research, commercial and general management roles.
My first employer was Rowntree Mackintosh, at a factory making Yorkie bars. Since then I've worked for the Institute of Food Research, Dairy Crest and a number of companies making and supplying ingredients for use in food production.
I've experiences in bakery, dairy, ready meals, sweet and savoury snacks, hot and cold beverages and across all temperature zones of food production (frozen, chilled and ambient).
I am a trained chemist with some knowledge of microbiology and a qualification in applied biochemistry.
My interests include kayaking, travel and trying new food combinations.
During my mentoring pilot, I demonstrated the bubble-trapping properties of cake batter by blowing through a straw into the batter and comparing the effect to blowing into water. It seemed to work.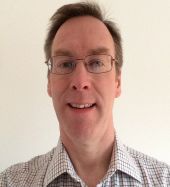 Specialism:
Carbohydrates
Fats and oils
Fermentation and/or positive use of micro-organisms
Fruit and/or vegetables
Other
Proteins
Raising agents
Contact method:
Email
Face-to-face
Skype (or similar)
Telephone