Printer-friendly version
IFST and IFT have partnered and are launching a pilot program that will give food science and technology professionals joint membership of IFST and IFT.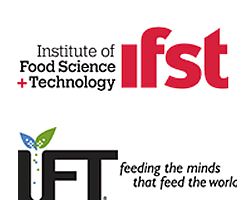 For a single membership fee, you'll become a member of both organisations and have access to expanded member benefits, from both organisations, that you can use to help you stay current on the latest developments and innovations in the science of food. Here are some of the resources available to you through this offer:
IFST Member Benefits
IFT Member Benefits
Digital access to Food Technology magazine
The opportunity to participate in the British Section IFT, including member-only Section events and activities
Complimentary access to valuable professional and career resources developed by IFT, including member-only content and tools on ift.org, all live and on-demand IFT webcasts, and IFT Connect, IFT's online networking and discussion community
Face-to-face and virtual networking opportunities with an international community of food professionals
Exclusive member discounts on registration fees for the IFT annual event, Certified Food Scientist (CFS) application fees and recertification, online courses, short courses, the Journal of Food Science (JFS), IFT Press books, and more
Existing IFT members
This offer is available to IFT members* for only £80, plus the relevant IFST subscription rate. 
*To take advantage of this offer, professional, emeritus, and emeritus professional members would be required to become standard IFT members, which will result in a change of membership dues, benefits, and privileges.
Existing IFST members
*This offer is available only to members residing in the UK and are Full Associates Members and Fellows (excludes students, postgraduates and anyone part of a Group membership scheme).
"In a world where food science and scientists are asked to meet global challenges, challenges which require local understanding to be met successfully, the opportunity for connecting with thought-leaders and peers is invaluable. Membership of the Institute of Food Technologists provides IFST members unique access to information, insights and experience from North America and around the world, and the opportunity to exchange views both face-to-face and virtually."   Ailbhe Fallon, Chairman British Section IFT
 
CONTACT US TODAY at joinus@ifst.org or call +44 (0) 20 7603 6313.