IFST and BRCGS are working together to provide BRCGS Professionals with opportunities to enhance their status and to gain recognition for their skills and expertise in food safety management as part of passing the BRCGS Professional programme.
Having passed your BRCGS Professional Training you should have received an email from BRCGS inviting you to join IFST at a preferential rate and to sign up for the IFST Register of Food Safety as a Food Safety Practitioner and as detailed in the diagram below:
BRCGS Professionals Applying for the Food Safety Register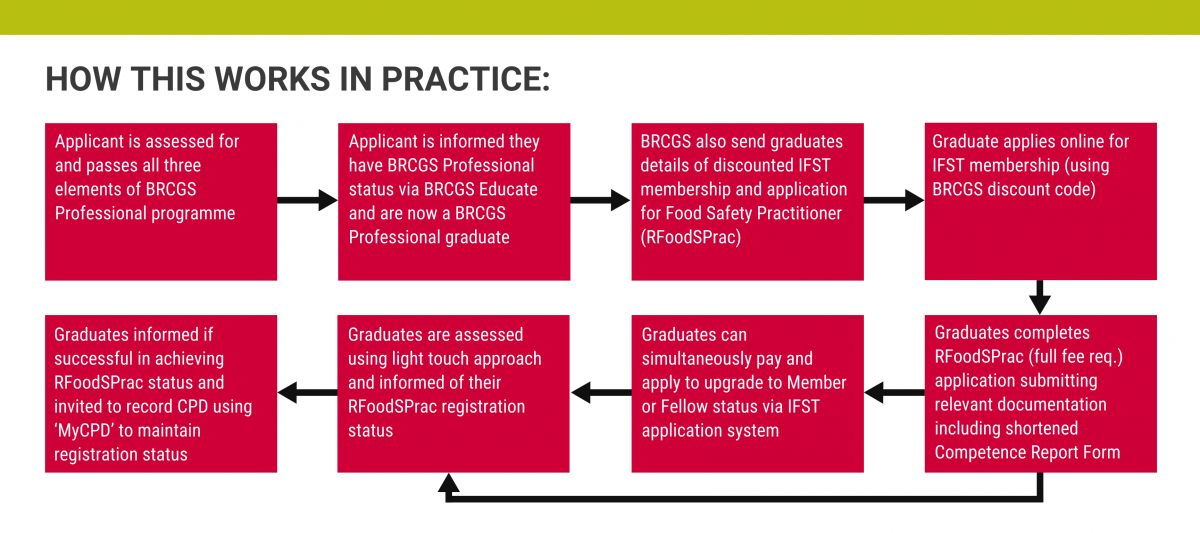 Full details on how to apply are available further down this page.
Eligibility To Join the Food Safety Register
As a BRCGS Professional graduate you are now invited to apply to join the IFST Food Safety Register. Our independent, peer-reviewed application process is rigorous but flexible, taking account of each applicant's technical qualifications and practical career experience to date. Below you can see the types of combinations of food safety work experience and education that we would expect an applicant to have to join the register.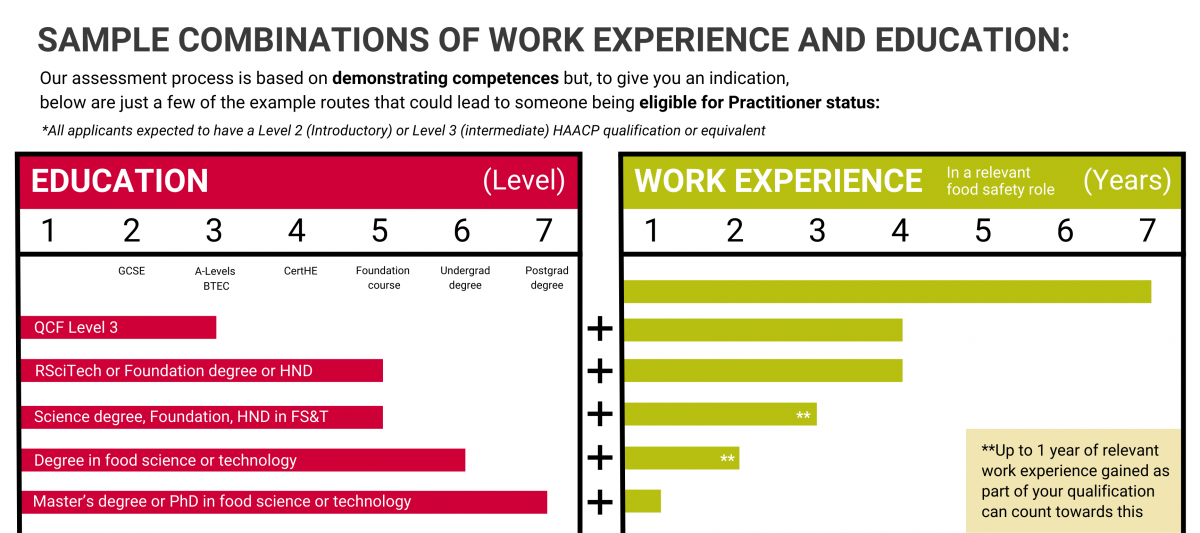 Please be aware that applying for this may take an hour or more, so we would recommend setting aside some time for this. A guidance document is available at the bottom of the page with information on full requirements and tips on completing the form. We would strongly recommend reading this carefully before beginning your application.
The first step in the process is to be a member of IFST. You should apply for the IFST membership grade that matches with your knowledge and experience using your discount code provided by BRCGS. If you apply for Member (MIFST) or Fellow (FIFST), please note that it can take approximately 8 weeks for the application to be processed. During that time, you will be an Associate member and will be able to access member benefits including events etc.
Once you are logged in to your IFST member dashboard you can apply online to join the Food Safety Register as a Food Safety Practitioner. You will need to supply the following as part of your application (all to be submitted online):
Shortened Competency Report - Please do not fill out section A. Insert N/A in Section A: Application of knowledge & understanding (which is questions 1-7).
Certificate of completion from BRCGS
An up-to-date CV including details of roles and responsibilities held
Contact details for employer so reference can be sought from them
If you have any queries about this process with IFST please email us via membership@ifst.org with the subject line 'BRCGS Food Safety Register'.
If you have any queries about this process with BRCGS please email: Professional@BRCGS.com
To start the application process, click here.
To find out more about the IFST Food Safety Register, click here.