Printer-friendly version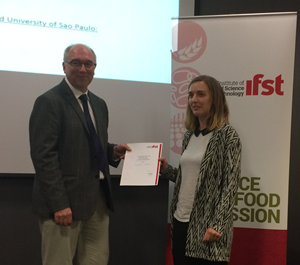 Salt and sugar reduction in quick service pizza restaurants, stevia,  staying active, protecting food grains and nuts, attitudes towards GM, the importance of cooking education in secondary schools, making prebiotic bread and protecting food grains and nuts….
This diverse selection covers yet another round of presentations delivered this time by the South Eastern Branch IFST Young Scientist Competition Finalists on 16 May at the University West London, with Undergraduate and Post Graduate finalists from Cranfield University, SouthBank University, University of Leeds, University of Lincoln, University of Reading and University West London.
The judging panel represented a cross-section of the food and drink industry with experience in a variety of roles in manufacture, retail and food service.  They had a difficult time whittling the entries down to just one winner in each category.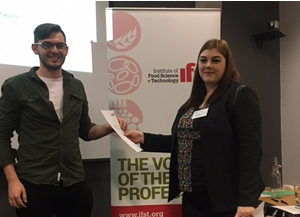 Undergraduate Winner (Sponsored by Raynors Ltd) – Matthew Jennett, from University West London tackled the challenge of Stevia: Bitter Sweet or Better Sweet   
Postgraduate Winner – Suzanne Harris from University of Reading looked at Dietary Fibre in Wheat and the possibility of making prebiotic bread.
Both winners receive £200, IFST & SCI membership.  All other finalists receive £25 and IFST membership.
Audience Prize – Angelika Kristek, University of Reading for her presentation on the effect of oat bran and its isolated bio activities on gut microbiota growth.  Angelika was awarded a £15 Amazon voucher.
Additionally a thank you to our sponsors who without them these types of events cannot occur: University West London, Raynors Ltd & SCI.