The winners of the 2014 UK competition were the Beri Bar Team from Harper Adams University. The winning team went on to compete in the European finals at the SIAL trade fair in Paris.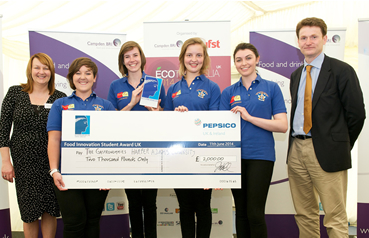 Gold - Harper Adams University, Beri Bar
Silver - Cardiff Metropolitan University, Cwtch Circles
Bronze - College of Agriculture, Food and Rural Enterprise (CAFRE) - Loughry Campus, Pot Delights
2014 Ecotrophelia UK Finalists
The following five products were selected for the 2014 Ecotrophelia UK finals:
Beans Concoction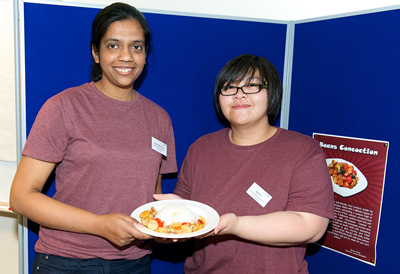 Pieces of mixed beans tempeh covered in sweet and sour sauce with fluffy white rice
Team: Beans Party, London Metropolitan University
Beans Concoction is an eco-friendly food product made by a traditional fermentation process. Made with three different types of beans – soya, adzuki and pinto – Beans Concoction is a product high in protein, fibre and zinc and a source of iron, calcium, phosphorous and magnesium. It's a delicious, perfect meal that can be prepared conveniently using a microwave.
Cooked to perfection in sweet and sour sauce with pineapple chunks and colourful pepper, this dish has an exotic taste that is also visually appealing. Added water chestnuts provide crunchy and fresh feelings that nature could also enjoy. Served with fluffy white rice, this dish will fill you up without filling the Earth with carbon emissions. So take one of these and put yourself, and nature, at ease.
Beri Bar
The Beri bar is a cereal bar with a molecular gastronomy twist involving mini bursting raspberry spheres.
Team: The Gastronommies, Harper Adams University
The Gastronommies' mission is to create an eco-innovative product centred on the cutting edge principles of molecular gastronomy. Using locally sourced ingredients from the county of Shropshire and frozen raspberries from British sources, the Beri Bar aims to provide a unique and novel snacking experience. Celebrity chefs such as Heston Blumenthal have heightened demand from consumers for innovative, flavoursome products, thus, leading to the development of a bar suitable for the ready-to-go foods market.
The bar is comprised of an oat and blueberry flapjack cereal base, topped with raspberry spheres and a drizzle of dark chocolate. The raspberry spheres are created through reverse spherification, differentiating the bar from its competitors. When consumed, the spheres burst providing an instant release of punchy, vibrant raspberry flavour. The product aims to bring the use of reverse spherification into the mainstream for the everyday consumer. Environmental considerations for the product include the packaging which consists of layers of paper and plastic that are 100% compostable and the design adds to the visual effect of the Beri bar
Cwtch Circles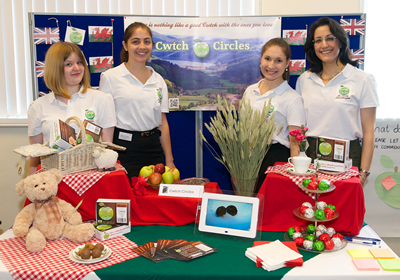 Sumptuous sweet apple centre delight surrounded in biscuit and covered in delicious milk chocolate.
Team: Cardiff Metropolitan University
Cwtch Circles are a twist on the traditional Scotch egg: sumptuous sweet apple centre delight surrounded in biscuit & covered in delicious milk chocolate. The brand incorporates the Welsh word 'Cwtch', which describes the warm feeling that only closeness to a loved one can create, while simultaneously, trying to create the longing of a Cwtch to this product. The strap line: There's nothing like a good Cwtch to have with the ones you love.
This sweet Welsh snack is made with three defined layers. The centre layer is produced from industry waste, provided by apple juice and cider manufacturers. This apple jelly layer represents the egg inside a scotch egg. The outer layer is a mixture of well-known biscuits, digestive and rich tea, which are the waste product provided by biscuit manufactures. These are ground to form the circular shape and then baked. The biscuit outer layer demonstrates the meat coating the egg centre of the well-known savoury snack, scotch egg. The final layer covers the product in delicious fair-trade milk chocolate, thus representing the breadcrumbs of a scotch egg. This product provides a tasty combination of a smooth apple filling and crunchy biscuit shell and a sweet chocolate coat with a plain apple taste in the filling.
Pot Delights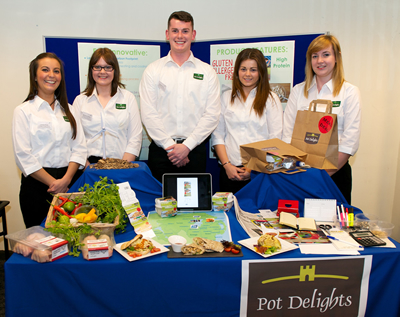 A ready to eat, pulled chicken product made from locally sourced chicken breast meat, cooked in a chilli, coriander and lime marinade, served with mango chutney
Team: Pot Delights, College of Agriculture Food and Rural Enterprise – Loughry Campus
The product is a sandwich alternative, with a "round pound" price and of good quality. It is designed to be a pre-cooked product which would be appealing to consumers and is suitable to be used in: sandwiches, salads and snacks and can be classified in the "Ready-to-Eat" or "Food on the go" categories.
The product is called "Pot Delights". It is a pulled chicken product made from 100% chicken breast, cooked in a chilli, coriander and lime marinade and is served with a separate portion of mango chutney
Thai Fish Rolls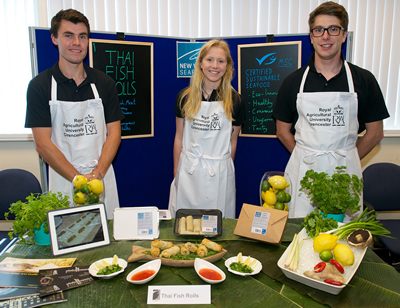 Thai Fish Rolls utilises waste fish to create a value added convenient product for any occasion.
Team: RAU Foodies 2, Royal Agricultural University
Thai fish rolls are ideal as a starter or light bite, and have been designed to utilise wasted fish, therefore adding value to a waste product. The product is similar to a spring roll, using layers of filo pastry as the casing, with flavoured filling. The main flavours used are citrus, including lemongrass and lime, as well as fresh chilli and coriander. The product is designed to be a health promoting light bite. The product is a pre-prepared product, using packaging suitable for cooking to minimise handling time. The total cooking time is only 20 minutes, therefore the product is designed to be convenient. The product is frozen to ensure optimum shelf-life.
The versatility of the product is designed to appeal to a range of customers, and can be eaten at a range of events. Different condiments can be used alongside the products, which can be sold alongside the product as an impulse purchase. The product will be sold in local fishmongers in Cirencester; therefore, it creates a new product line which may attract new customers into the store. However, due to being a handmade product, it can still be perceived as higher quality compared to competitive products in supermarkets, giving the product a competitive advantage which is reflected in the pricing strategy, as the product is sold for £3.99.