I'm Bob Bowman, Chairman of Eastern Branch. Now retired after more than 50 years in the food industry, I have recently also completed 50 years as a member of IFST.
Eastern branch officially covers Norfolk, Suffolk and Cambridgeshire but, 'blurry' boundaries permitting, our reach overspills into the neighbouring counties of Essex, Lincolnshire and Bedfordshire.
Our region is renowned for its agricultural heritage and is often referred to as 'the breadbasket of England'. It has vast areas of the landscape devoted to agriculture that, historically, gave rise to industries based on local produce. Today the region is home to a diverse range of food businesses, some of whose logos appear below.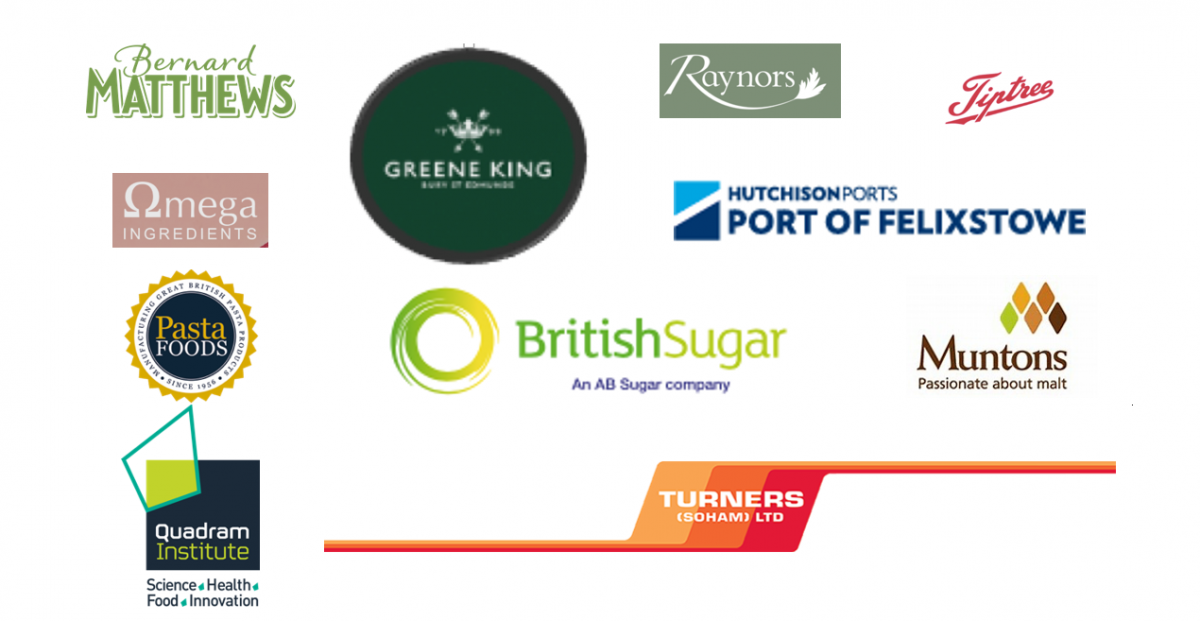 They include processors, logistics and service companies, as well as several leading food and bioscience research establishments. On the Suffolk coast, the Port of Felixstowe is the UK's busiest container port, dealing with 48% of Britain's containerised trade.
I am assisted in the running of the branch by a diverse and talented group of people that I am privileged to represent. Let's meet them…
Julie is our current Branch Secretary and does an excellent job of ensuring committee meeting agendas and minutes are accurately yet succinctly recorded and circulated.
Jane is the diligent custodian of our Technical Visits programme.
Debra recently ran a hugely successful joint event with EHEDG held at the National Centre for Food Manufacturing in Holbeach, where she was also instrumental in helping to deliver a live satellite streaming of the IFST Annual Lecture.
Rob shared his deep knowledge of human nutrition during lockdown 2.0 in a webinar entitled "The Potential Role of Nutrition in Delaying Mild Cognitive Impairment".
Conan often provides us with wise words and truly invaluable insights from his industry experience; Belinda is another experienced individual whom we are pleased to have as a member of our committee.
Federico and Anabel, two of our younger members on the committee, each recently contributed to the running of two successful and popular webinars, "A Virtual Genius Journey", the story behind Genius Foods by Founder Lucinda Bruce-Gardyne, and "Meat Alternatives: the Manufacturing and Science behind Mycoprotein".
Sadly, Anabel will be leaving us shortly to start a new position as Science Officer for the International Dairy Federation based in Brussels, a location that we'd struggle to stretch our "blurry" boundary to include. So, we thank her for the great contribution she has made and wish her well in the future. She will be replaced by Alison Kerigan, who we are delighted to welcome to our committee.
In addition to volunteering with branch activities, several committee members also volunteer on other IFST SIGs and committees: -
Steve, our current Vice-Chair of Eastern Branch, serves on the Membership Assessment Panel for applications to Member and Fellow grade and is a member of the SIG on Innovation (Product and Packaging),
Carol is a committee member of the IFST Sensory Science Group,
Julian, a former Board Trustee is active on the Scientific Committee, Covid Advisory Group, Sustainability Working Group, MAP and Consultation Group. He represents IFST on the MChemA Board,
Debra is Events Co-ordinator for the Food Processing SIG,
Sonia is a member of the IFST Food Safety SIG.
Together, we manage the business of the Branch and plan a series of activities for members. Pre-Covid typically involved six technical visits per year. However, like everybody else, as Covid restrictions were introduced we had to adapt to virtual platforms. Details of these and many other past events can be found on the IFST website.
In September, as Covid restrictions were lifted, we held our first post-lockdown site technical visit to Wilkin & Sons, Tiptree, our sixth visit to this company in seven years. Our long-term relationship with Wilkin & Sons has set the precedent for our current strategy, which is to forge relationships with food companies and institutions in the region to further the six IFST Strategic Priorities. To succeed in this, we need the help of members. With the establishment of IFST Communities, we have an unprecedented opportunity to communicate directly with branch members, but currently, we have only 26 of a total of 152 branch members signed up.
Please log in and sign up to My Networks/Eastern. We'd love to network with you and see you at one of our future events.