Taming the Perfect Storm - The Power of Food Science and Technology
The IFST Spring Conference 2023 focused on three key themes, which we believed were some of the main challenges facing all professionals working in the food sector:
Food Security (supply chain robustness, food affordability)
Health and Nutrition (obesity, allergens, nutritional density)
The Environment (sustainability, biodiversity, net zero)
These themes were a significant part of the system of challenges we were all facing as food system actors. We were hugely excited to bring together the IFST ecosystem to discuss, brainstorm, and debate around these subjects for one of the most important events in our calendar that year!
Our conference schedule was both educational and practical; we explored the day-to-day challenges around food safety, affordability and authenticity, while looking to solutions and the future. We showcased innovative science and technologies from an exciting range of disciplines.
Each of our three sessions demonstrated how food science was applied in real-world settings; covering topics including the impact of the climate crisis on crop yields, innovations in food waste, sustainable foods, and much more!
Our speakers came from across the food industry and included leaders from policy, technology, academia, and international organisations. You can now access the speaker presentations via this link.
SC23 Conference Highlights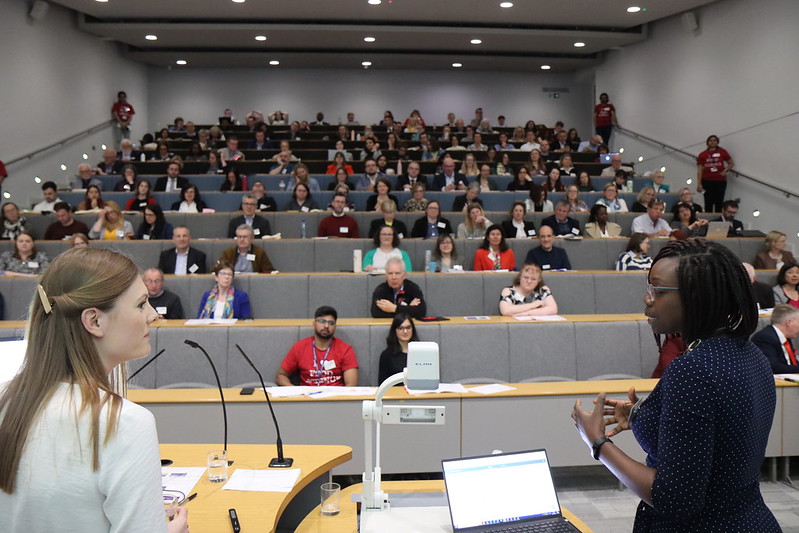 A huge thank you from all of us at IFST to those who attended SC23! Your energy and passion made for a brilliant event which will live long in the memory.
IFST Spring Conferences are always a highlight of our year, but the 2023 edition felt extra special. We were able to gather in person for the first time since the pandemic, against the beautiful backdrop provided by Cardiff Metropolitan University. Over 200 delegates joined us for the conference from across the food sector, including practitioners, academics, students, and media. We're going to take you through some of our highlights from a wonderful event!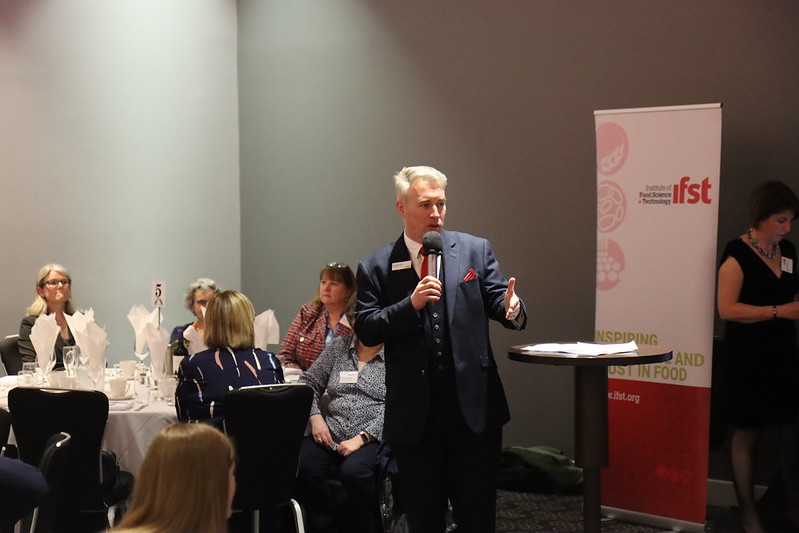 On the evening of 25 April, we gathered at the Radisson Blu Hotel in Cardiff for our pre-conference dinner and networking event. We heard from IFST Chief Executive Tim McLachlan (pictured above), as well as Mike Woods from Just Love Food Company - an innovative company which grew out of a need to better accommodate allergy sufferers in food. It was lovely to get together for a social evening full of interesting conversations and long-overdue catch-ups!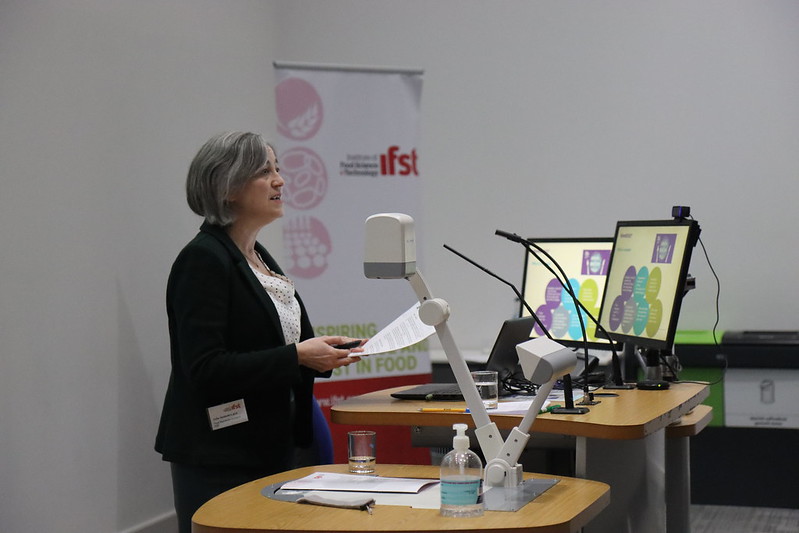 We kicked off the day with our keynote speaker, Julie Hesketh-Laird. Deputy Chief Executive of Food Standards Scotland. Julie gave us thought-provoking insights into the state of the food sector in Scotland, and the link between public health and the food sector. We heard about our conference theme "Tackling the Perfect Storm" is particularly relevant in Scotland, as they tackle the interlinked issues of food security, public health, and the environment.
On the morning of the conference day, we heard from Dr John Ingram from the Food System Transformation Programme Leader at the Environmental Change Institute, University of Oxford. John gave a fascinating insight into food systems transformation with his talk "Transforming food system outcomes: who needs to do what?"
Dr Wayne Martindale continued the programme by whipping out the crystal ball for a glimpse into the future with his talk: "A Vision of the Food System, 2045 CE: Smart People, Smart Processes, Smart Factories." We heard from Wayne about how there is a need to re-think the food system, including materials, be more prepared for a crisis, connect the data we have, and break harmful repetition in research and implementation.
In the afternoon, we were joined by Parita Doshi from the "A Healthy Life" team at Nesta. Parita presented the fantastic variety of work undertaken by Nesta, under the title "Innovation Sweet Spot: Steering good technology towards improving health and food environments." Together we learned about the importance of human health in the food system, and how we can incorporate human health into food systems transformation.
We rounded off the day with our panel discussion, titled "Getting the Balance Right". Our panel was chaired by Kate Halliwell, the Chief Scientific Officer of the Food and Drink Federation. The all-star group of panellists were:
Oliver Camp, Senior Associate, Nature-Positive Actions for Healthy Diets, Global Alliance for Improved Nutrition (GAIN),
Dr Joanna Trewern, Head of Consumption, WWF-UK
James Lloyd-Jones, Founder, Jones Food Company
Nathan Barnhouse, Director for Wales, FSA
This discussion was the perfect way to end a fantastic day, and we were really struck by the energy and passion of panellists and delegates during the discussion, as questions covered a wide range of subjects.
IFST is deeply grateful for your support and engagement in SC23, we couldn't have made this event happen without the support of you, our members! It meant the world to us that we were able to gather in person once again. We were also delighted to be able to host this conference in Wales, so soon after the creation of the Wales Branch. Additional thanks go to our event sponsors who enabled the conference to take place and the student ambassadors who kindly gave their time to ensure a smooth conference experience.
See more photos from the event here: