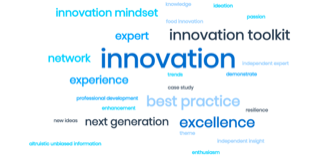 The Food Innovation Group provides members interested in innovative food design and development (from concept through to final product) with an opportunity to engage and share knowledge with others.
Its purpose is to promote and inspire excellence in food product and packaging innovation, by:
Showcasing best practice and championing a growth/innovation mindset
Curating an innovation tool kit
Having innovation insights and horizon scanning as our compass
The group's strengths are its ability to bring an independent insight into innovation, its wide diversity of experience and expertise and the creation of a networking platform for innovators across the entire food industry and at all stages of their careers.
The scope of the group includes:
Food design and development (managing critical paths from concept through to final product), process development and commerciality of new launches

Raw materials: ingredients and packaging

Intellectual property

Culinary aspects, insights, horizon scanning and trends
They will be involved in a wide range of activities, including face to face events, webinars and discussion workshops, to engage IFST members, share ideas and knowledge, and support the food sector.
Meet the Food Innovation (Product & Packaging) Group Committee
Chair: Susan Arkley
Vice-chair: Lindsey Solomons
Communications: Valia Christidou
Secretary: Devyani Bali
Other committee members: Craig Duckham, Sarah Gaunt, Bronwyn Hawker, Isabel Lozano Hernández, Tom Hollands, Sheila Kupsch, Helen Taylor, Steve Timms, Sarah Wilkie, Deborah Whinnery, Jon Wilkin.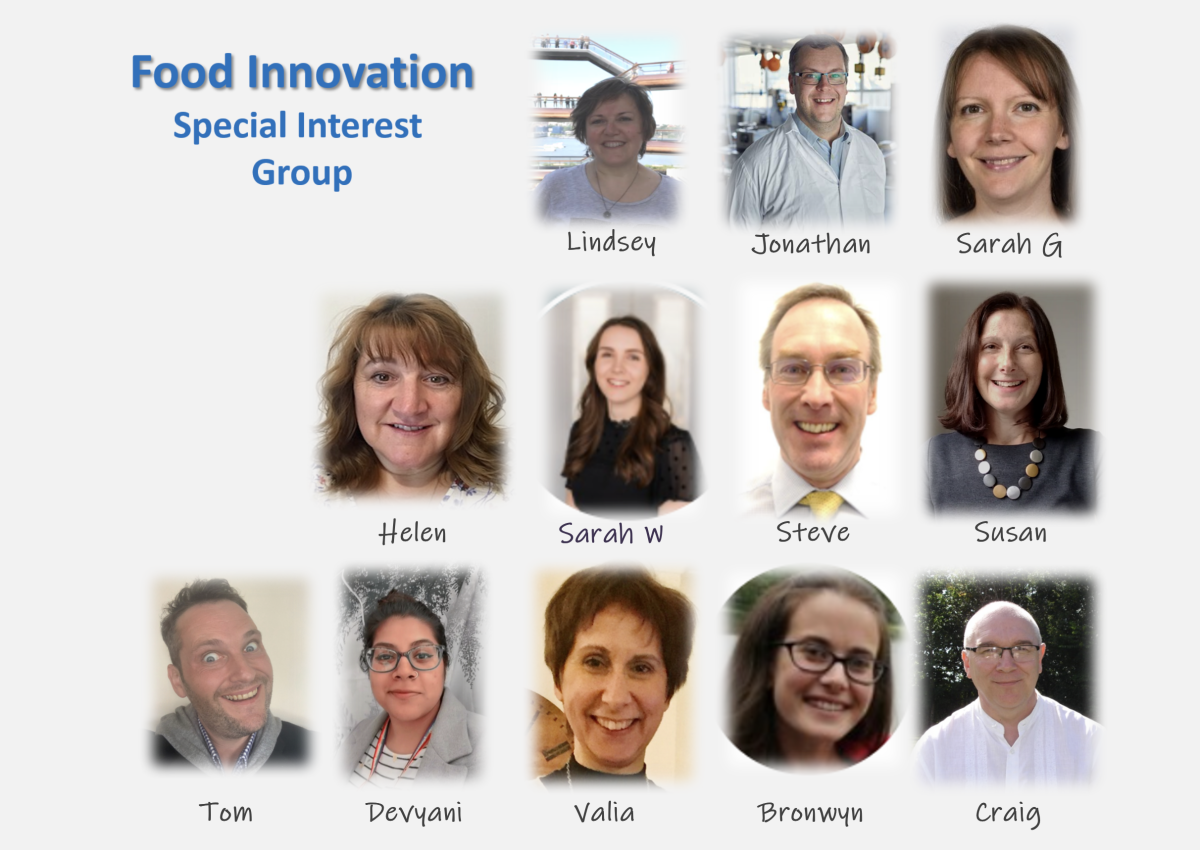 Susan Arkley FIFST has over 20 years of food industry experience, specialising in product development and innovation. She has managed innovation teams and projects (from concept to launch) in a variety of different companies from SME's to large global corporations. Susan is now a Freelance Food Consultant, part-time lecturer and IFST volunteer. Susan is Chair of the new Innovation Special Interest Group, a member of the External Affairs Group and committee member of the IFST Midlands Branch.
Devyani Bali is a recent Gastronomy postgraduate from Queen Margaret University and also holds an honours degree in Baking Technology Management from London South Bank University. During her studies, she has completed pastry internships at Harrods and The Ritz and has won awards at Salon de Culinaire and Hotelympia competitions. Furthermore, her interests in R&D led her to supervise the AACCI (American Association of Cereal Chemist) Methods held in London, 2018. Devyani is currently pursuing a degree in Food Innovations at University of Greenwich to expand her horizon on product development and consumer behaviour.
Valia Christidou FIFST is an R&D leader with 30 years experience in the food industry in the UK and abroad. She has held senior technical positions as head of R&D UK and Europe, for Pladis (formerly United Biscuits) and before this as head of Product Design. Valia has overseen the creation and launch of over 300 new products and nutritional improvements under iconic brands such as McVitie's, Jacob's and Godiva. Valia also gained marketing experience early in her career, as a Senior Brand Manager. Very keen to inspire the next generation to discover the opportunities and thrills of a technical career in food, Valia joined IFST's Innovation Special Interest Group and also blogs about all things product development and innovation at itsonlybiscuits.com
Dr Craig Duckham FIFST. Following a number of years in University research; investigating plant biochemistry, biogenic volatile hydrocarbon emissions and flavour chemistry, Craig pursued a career in analytical chemistry and technical management. This led to contract R&D and technology transfer management in the microencapsulation industry, operating across diverse sectors. This included three years developing sensory tools for beverage and food quality control. Beer and wine tasting was a necessity! In 2012 Craig set up CD R&D Consultancy Services through which he provides technical support and know-how to both mature and developing F&B businesses. Craig is a Fellow of the Institute of Food Science and Technology, a Fellow of the Royal Society of Biology and also a member of the Society of Chemical Industry, with a PhD in Plant Physiology from The University of Nottingham.
Sarah Gaunt FIFST has a wealth of experience in taking concepts from once in the laboratory to a profitable market-ready product. This experience ranges from the fundamental science involved in the initial proof of concept testing, field trials, navigating regulations, scale-up and manufacture, and initial branding and marketing. She has a background in bringing products to market in the food and ingredients sector as well as commercial experience in the pharmaceutical sector. She has worked in large corporates, SME and startups and academic groups and is excellent at communicating between academia and industry. She has also been involved in guiding products from the concept stage to multimillion-dollar licensing deals with global companies (more than once!).
Bronwyn Hawker MIFST has 15 years of working in NPD and Technical roles in the food industry. She is currently the NPD manager for Mia & Ben, a plant-based baby and kids' food start-up. Before this Bronwyn worked for Annabel Karmel as their NPD and technical manager developing ready meals for babies and for Wagamama managing their food redevelopment programme. Bronwyn has also worked for both Lantmannen and Winterbotham Darby, developing bakery and dessert products for UK retailers with manufacturers in Europe. She also has 5 years' experience in NPD of soft drinks for companies in the UK and New Zealand.
Tom Æ Hollands FIFST is the Innovation and Technical Director at Raynor Foods; he is an accomplished Food Scientist who has worked in both government (Food Standards Agency) and the private sector. Tom is a true innovator at heart and has won a number of national and international accolades in recognition of this. Tom's innovations are focused around sustainability and has interests in meta food systems, their emerging technologies and the complex links that connect them.
Lindsey Solomons FIFST is an Innovation & NPD expert with 30 years' experience in Food Industry worldwide. She founded NPD Edge, her food tech consultancy company working globally with clients to create new products and brand innovation. As a passionate foodie, she co-founded taste2taste.com a food blog based in New York and London. She is a Fellow of IFST and vice-chair of the Food Innovation SIG.
Helen Taylor CSci RFoodSM FIFST is the Technical Director of the ZERO2FIVE, Food Industry Centre at Cardiff Metropolitan University and has been an integral member of the team since 2006. Helen has responsibility for industry and commercial interfaces with the centre including the management and delivery of specific technical and innovation projects for the food industry working with over 150 companies. Helen has also taught at undergraduate and master's level and is a qualified Auditor and Mentor to the food and packaging Industry. Prior to her current role in the academic sector, Helen was a senior Technical manager with major global food companies for over 15 years.
Steve Timms FIFST is the Commercial Development Manager for Brenntag Food & Nutrition UK & IRE. He has over 38 years' experience in the food industry working initially in food research (dietary fibre) and subsequently in manufacturing and distribution companies. Qualified as a biochemist with an additional qualification in microbiology, Steve has assisted many companies successfully formulate and launch new products in Europe, the Middle East and North America.
Sarah Wilkie is a Food Technologist at the Scottish Centre for Food Development and Innovation. She works mostly with small start-up companies that require food science expertise but she also deals with larger companies who require help with the reformulation of existing products. Sarah joined the Food Innovation Special Interest Group to share and discuss challenges within food innovation and network with people with similar interests.
Deborah Whinnery FIFST is a Senior Food Technologist at the College of Agriculture, Food and Rural Enterprise (CAFRE). She works at the Loughry Campus site that offers food education courses and also technology transfer to the food industry. She mostly works with the food industry delivering projects from SME's to the larger companies on food technical aspects and new product development through the use of the food innovation facilities available at the Campus. She also has responsibility for the food business incubation centre co-ordinated on the site. She is involved in innovation funded programmes such as KTP, Fusion and Invest NI vouchers that is linked to the food industry. Deborah is currently undertaking a PhD part-time and has worked in ready meal and produce sectors before joining the Loughry Campus. She graduated in 2001 with a BSc Food Technology and in 2018 MSc Rural Business Enterprise from Queens University.
Deborah has joined the Food Innovation Special Interest Group to share, develop and discuss challenges within food innovation and network with people with similar interests, to help broaden contacts and share experiences from different sectors and parts of the food industry.
Jonathan Wilkin FIFST is a Senior Lecturer in New Product Development at Abertay University, Dundee Scotland. During his time at Abertay University, Jon has been responsible for 32 individual grants with a total value of £1.7M. He has been principal investigator on four Knowledge Transfer Partnerships (KTP's), where one project won two awards in 2017 at the Scottish National Knowledge Exchange Awards, one for Innovation of the Year and the other for Building Skills. Jon has also helped secure a further four KTPs, matching skills of staff to the skills required by the company. Jon completed his PhD at Cardiff Metropolitan University and part of the work submitted for this PhD was linked with the work carried out during his own KTP. Jon is also IFST's Scottish Branch secretary and has been involved in the organisation of events like the Student LaunchPad and Young Scientist Competitions as well as hosting the IFST Annual Presentation (Scottish Satellite Events). Jon also represents IFST at the Cross Party Group for Food at the Scottish Parliament.