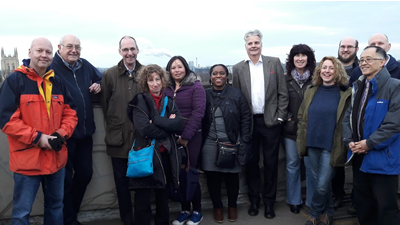 Twelve Members and guests arrived at the Greene King Brewery in the middle of Bury St Edmunds for the IFST Eastern Branch tour on Monday 5 February. Our host Susan and Head Brewer Craig made us instantly welcome with samples of the local brew for those not driving.
The tour started with a climb to the top of the brewery buildings with fantastic views over the town and countryside. Craig enthusiastically talked us through the beer journey starting with the water from the aquifers beneath the brewery, adding in the the local malt and hops from Kent. His knowledge was put to the test with many questions which he expertly answered on our descent through the different floors holding the malt mills, mash tuns and fermentation vessels He showed us the different types of malts used and waxed lyrically about the need to let the beer 'take its time' to develop the depth of flavour characteristic of real ales.
The tour finished in the Brewery Tap with more samples and a splendid buffet - an excellent event!