On a warm May evening six nervous finalists gathered at AFBI, Newforge for the annual IFST Young Scientist Competition. Past IFST President Prof. Maureen Edmondson introduced the event, drawing attention to the wide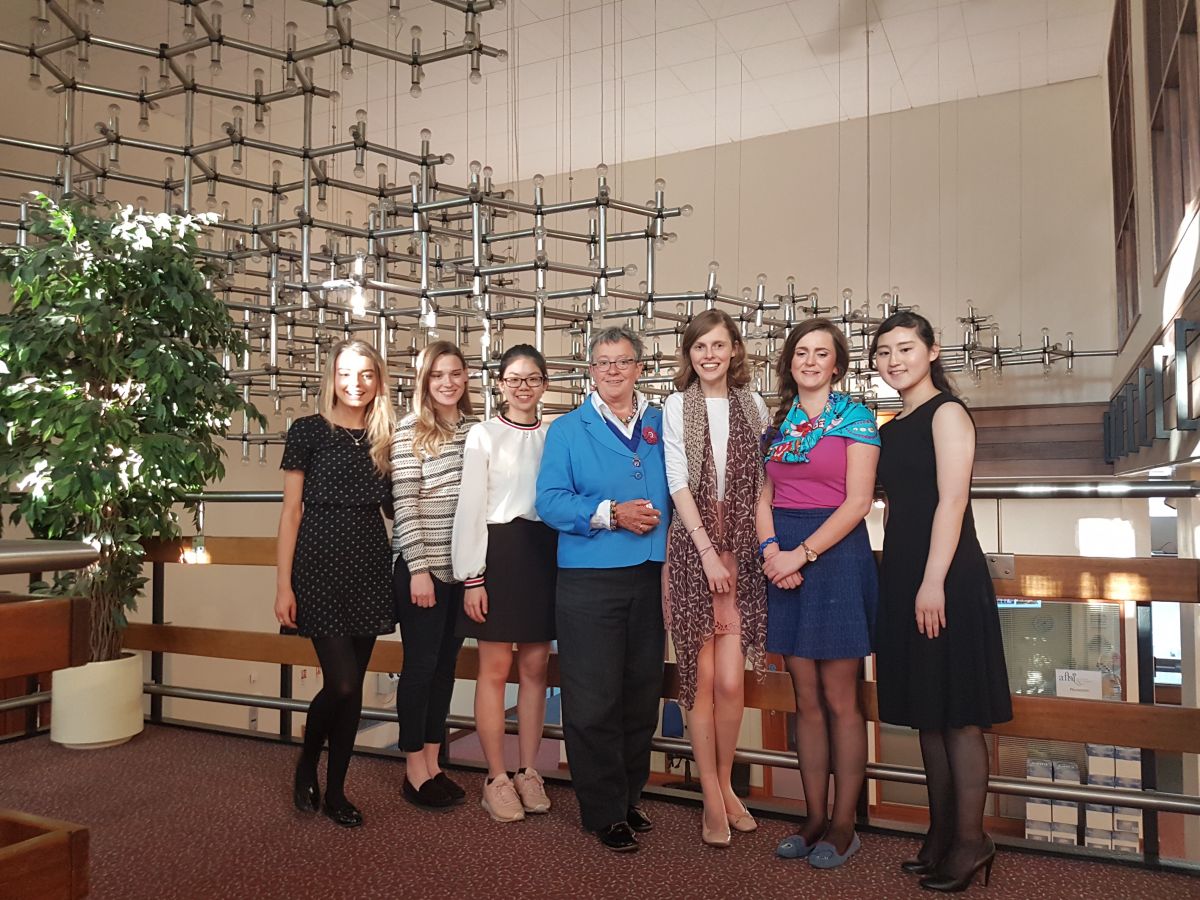 support IFST gives students. Maureen's emphasis on the welcoming IFST family must have helped put the students more at ease because they all gave stunning talks about their work.
Organised by IFST's Northern Ireland Branch, this competition is open to final year undergraduate students from CAFRE, UU, QUB or the Open University in Northern Ireland. Applicants are asked to submit an abstract on their project or work experience. Shortlisted applicants are then invited to give a 10-minute presentation to outline the outcomes from their work and its relevance to the food and drink sector and/or policy.
At the final, in order of appearance Anna Monaghan IGFS QUB presented on her study of the role of circulating leptin in prostate cancer. Kelly Millar IGFS QUB described her work on Alzheimer's disease prevention via a proprietary medicinal plant polysaccharide. Cia Min Lim described tea authenticity and origin by elemental analysis by ICP-MS. Katie Kirk IGFS QUB discussed lowering the glycaemic index of rice and Maeve O'Hagan, IGFS QUB, described work on removing cadmium from rice using citric acid. Lai Yung Minnie Wong Ulster University discussed the antioxidant power and anti-cancer activity of supplemented Manuka honey.
The judges were Naomi Davidson, Senior Scientific Advisor, FSA NI; Anne Richmond, Head of R&D, Moy Park; and David McCleery, Head of Bacteriology, AFBI. These experts had also been responsible for the shortlisting exercise and were thus familiar with the finalists' work and asked questioned after each talk. Even so they had a fiendishly difficult task as all finalists presented high quality work in a confident and persuasive manner.
The judging criteria included rationale for work, research approaches, good statistical analysis and relevance to the food and drink sector and/or policy. The finalists were also appraised on effective communication skills, their personal development and clear conclusions.
Each shortlisted student received a certificate and a complimentary 1-year student membership of IFST. The winner, Katie Kirk, IGFS QUB won £1000* and the runner up, Maeve O'Hagan, IGFS QUB received £500*. All other finalists also received £50.
The event could not have taken place without the support of the Northern Ireland Food and Drink Association, NIFDA, which kindly sponsored the prizes and the Agrifood Bioscience Institute, AFBI, which hosted the event and provided the hospitality. Our thanks go to the judging panel and to Branch Chair Dominic Darby for leading the organisation of the event.
Offering his congratulations to all of the finalists David McCleery, Chair of the judging panel said: "The standard of work presented here gets higher every year and we need have no fear for good science in the agrifood sector with outstanding students such as these coming along. "
*Both awards will be in 2 stages, with half paid shortly after the event and half paid after 6 months, on condition they are in employment in the food industry.