On Tuesday the 16th May I was privileged to be representing the Food Group of the SCI as Head Judge at the South Eastern region heat of the annual IFST Young Scientist competition. This well attended heat was hosted at London Geller College of Hospitality and Tourism, University of West London in Ealing. I was joined by fellow judges Owen Evans, (Food Technologist, Marks & Spencer), Jessica Weston (Technical Manager Biscuits, Sainsbury's Supermarkets Ltd) and Carmen Iftime, (Quality Custodian at Raynor Foods).
Postgraduate and undergraduate project students presented work they had completed on a food related project in food technology, human nutrition and allied areas such as sensory and consumer science. Our difficult job was to evaluate their presentation skills, methodology, results and interpretation and how their work could impact on industry in practice.
The Undergraduate Winner was Matthew Jennett, from University of West London tackled the challenge of Stevia: Bitter Sweet or Better Sweet and illustrated some of the challenges faced when reformulating a classic cake. The Postgraduate Winner was Suzanne Harris from the University of Reading who made an excellent presentation of her work on Dietary Fibre in Wheat and the possibility of making prebiotic bread. Both winners receive £200, IFST & SCI membership.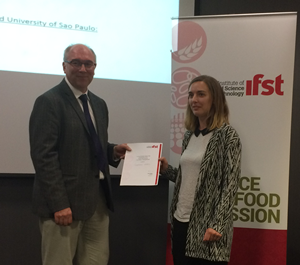 All of those attending had a chance to choose a speaker of their choice and the Audience Prize was awarded to Angelika Kristek of the University of Reading for her Postgraduate presentation on the effect of oat bran and its isolated bio-activities on gut microbiota growth and interestingly how the ratio of beta-glucan and polyphenols can influence prebiotic performance. Angelika was awarded a £15 Amazon voucher.
This was a great evening for seeing the emerging talent that will ensure the future of food science and technology remains vibrant and strong. Thanks go to the IFST and to all the sponsors and participants that make such events possible: The University of West London for hosting the event, Raynors for sponsoring the Undergraduate Prize and the SCI for providing an annual student membership and ongoing support for the competitions.
Craig Duckham, Head Judge, IFST/SCI member