Lindsey Bagley, Eureka
Lindsey has formal science qualifications followed by a career of over 35 years as a hands-on product and process developer in the food & healthcare industries. She is expert in formulation and manufacture of products and has been responsible for the launch of over 450 retail products, 30 new ingredients and her work has supported over 20 patents. Lindsey's experience in product and process development was firstly with Beecham Products then Tate & Lyle and since 1989 she has been an independent consultant to the food industry. Lindsey currently operates her consultancy Eureka focusing on new product development projects and is a director of Flavour Horizons which organises events for the Flavour Industry.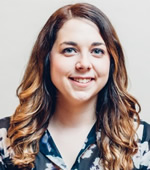 Sarah Coe, Nutrition Scientist, British Nutrition Foundation
Sarah is a Nutrition Scientist at the British Nutrition Foundation (BNF). As part of her role, Sarah conducts horizon scanning activities, writes articles for a variety of audiences as well as social media content, and responds to enquiries from the media. She also provides technical assistance for BNF's journal Nutrition Bulletin and helps to review and develop BNF website content. Additionally, Sarah is providing editorial support for the update to the 2005 BNF Task Force report on cardiovascular disease. Sarah obtained a BSc in Nutrition from the University of Surrey, and as part of her degree spent a professional training year working in the nutrition team at Unilever.
Kate Halliwell, Head of UK Diet and Health Policy, Food and Drink Federation (FDF)
Kate is the Head of UK Diet and Health policy at the Food and Drink Federation (FDF). Her role involves the development, implementation and promotion of FDF's nutrition and health policies across a broad remit, from product reformulation through to workplace wellbeing approaches. This includes extensive liaison with food companies to develop cross-industry policy positions and respond to scientific consultations. She is a member of IGD's Industry Nutrition Strategy Group, and an observer on the British Nutrition Foundation's Industrial Scientists Committee. Previously Kate worked for the Department of Health and the Food Standards Agency on a range of nutrition policies. Kate sits on the Nutrition Society Council representing industry and is a registered nutritionist.
Sue Gatenby PGDipDiet PhD MBDA, Senior Director, Nutrition Sciences, PepsiCo
Sue joined PepsiCo in 2005 and is Senior Director with responsibility for nutrition science strategy across a diverse product portfolio in Europe and Sub Saharan Africa and for the Global Snacks Category. Sue has over 25 years' experience in nutrition research, education and in the food industry. She has a PhD in Nutrition from King's College London and is a qualified clinical and sports dietitian.
Previously Sue held positions at the Universities of London & Surrey, the LSHTM, IFR, IGD and GlaxoSmithKline. During her time at the IFR she consulted for DH during development of the original Eatwell Plate and at IGD was responsible for leading the work on the development of GDAs. She holds a number of external positions including Industry Governor of the British Nutrition Foundation.
Dinnie Jordan, founder and CEO of Kudos Blends Ltd
Dinnie is on a quest to create healthier baked goods . Combining a degree in chemistry, 25 years' experience in the bakery market, and a generous helping of entrepreneurial vision, Dinnie is the founder and CEO of UK based Kudos Blends.
Launching Kudos Blends back in 1999, Dinnie's inspirational leadership skills and passion for non-stop innovation has established this leavening agent manufacturer and supplier as a successful global operator. In 2016, soaring international sales gained Kudos Blends The Queen's Award for Enterprise.
As increasingly stringent sodium reduction targets are published across the globe, Dinnie's continuous focus on the health benefits of potassium has enabled Kudos to solve nutritional challenges faced by world-leading bakeries.