4 April at Elgar Concert Hall, University of Birmingham, Edgbaston, B15 2TT
View the full programme and book your place today
Lucinda Bruce-Gardyne, Founder, Genius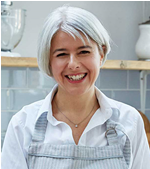 Lucinda Bruce-Gardyne is a chef and entrepreneur.  After completing her degree in Physiology she went on to train at Leith's School of Food and Wine, before honing her skills at Conran's Bibendum Restaurant. After running a catering company in London she returned to Leiths as a teacher and has written three books: The Leiths Techniques Bible, How to Cook for Food Allergies and most recently The Genius Gluten-Free Cookbook.
Lucinda's entrepreneurial breakthrough moment came when one of her sons was diagnosed as gluten intolerant and she discovered there was no tasty gluten free bread available. She resolved to develop this badly needed product herself. On the back of this ground breaking innovation, she founded Genius Foods in 2008 and launched her bread nationwide a year later. Since the first listing of Genius bread, Lucinda has overseen the creation of Britain's leading "free-from" bakery brand, revolutionising the industry and normalising the lives of millions of people who have to or choose to live on a gluten free diet. Genius now exports to Europe, Australia, and North America from its bakery in West Lothian.
Lucinda is a Non-Executive Director of The National Skills Academy for Food and Drink and the newly formed Scotland Food and Drink Innovation Board.  She has also recently become Non Exec Director of The Scale Up Institute and a dynamic social enterprise, The Larder Cook School.
 Lucinda was elected as a Fellow of the Royal Society of Edinburgh in 2017, where she sits on the Enterprise Fellowship Panel.  She is committed to supporting and encouraging the next generation of entrepreneurs and innovators, regularly speaking at schools, universities and industry events. This year, Lucinda was appointed Royal Society Entrepreneur in Residence at Edinburgh University, spending her time encouraging entrepreneurial thinking in The School of Physics and Astronomy. She was also recently nominated as one of the Maserati Top 100 Innovators and named in the top 100 Women to Watch in the annual Cranfield University Female FTSE Board Report 2018.
Dr Rob Winwood, Vice Chair of CRN UK & Manager Nutrition Science and Advocacy (EMEA), DSM Nutritional Products
Rob Winwood PhD, CSci FIFST is a member of DSM's global Nutritional Science and Advocacy group based in Kaiseraugst, Switzerland.
Rob has held a series of senior technical and business development positions in various global food ingredient companies including Martek Biosciences, Archer Daniels Midland (ADM), Kelco International and Tunnel Avebe Starches.
Rob has been the scientific vice-chair of CRN UK since 2017. He is a specialist in lipid nutrition, micronutrient nutrition and fermentation. He is a long-standing member of the scientific committee of GOEDomega3 &  Arbeitskreiss Omega 3. He also serves on the nutrition committee of EUFIC and the Vitafoods Conference Executive Advisory Board.
He has authored numerous scientific publications and has been an invited speaker at many conferences around the globe. He has also made appearances on UK and Chinese national radio and television.