To celebrate World Food Safety Day 2020, which inspires actions to help prevent, detect and manage foodborne risks, contribute to food security, human health, economic prosperity, agriculture, market access and sustainable development, Sterling Crew (Chair, IFST Food Safety Group) talks to key members of the group, about their roles and experiences. 'Food safety, everyone's business'.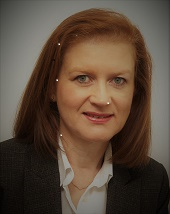 Sterling Crew, Chair of IFST's Food Safety Group talks to Fidelma Pogorelow about her personal experience of food allergens and young people, in conjunction with the second World Food Safety Day (7 June 2020).
Fidelma Pogorelow RFoodSM MIFST. Fidelma is a qualified food scientist with over 25 years' experience in various technical roles, ranging from raw meat, fish and eggs, to cooked chilled meals and ready-to-eat products. She is qualified in Level 4 HACCP and auditing, as well as being experienced in developing quality systems, training and auditing programmes. Fidelma works with companies to achieve third party accreditation in BRCGS and SALSA, and works with the Food Standards Agency (FSA) auditors and Environmental Health Officers (EHO).
Why did you start taking a particular interest in food allergens?
I am a parent who has a teenage son affected by allergens and I worry about the impact of consuming foods that could trigger a severe reaction. My greatest fear is when we eat out, whether the food will be suitable for him and, more importantly, where is the EpiPen should he need it. My other major concern is what happens when I am not there to monitor what my son is eating. Is he mature and sufficiently educated to look after himself? Is he able to self-medicate should the worst happen?
What are the challenges for young allergy sufferers?
Living with an allergy or food intolerance is not easy for a confident adult.Imagine how difficult it can be for a growing teenager, who wants to fit in with their peers, whilst gradually becoming more independent from their family, or carers. During this major growth and development period, most young people enjoy food and can empty the contents of a fridge within seconds.Active teenagers, especially those who enjoy sports, require a high calorific diet.However, young people living with food allergies, or food intolerances, are restricted to what they can eat when it comes to fast food outlets as these often do not cater for their specific requirements.Managing allergies or other conditions, such as those with coeliac disease, often face a dilemma when eating at clubs, social events, parties or in restaurants.They do not want to cause a fuss or highlight their differences in front of friends and family, but they must query the contents of the food and the cooking methods.
How do you manage to support your son who is affected?
Since being diagnosed, I have explained to my son that he must be careful about what he eats. During his primary school years this was well managed because his friends, their parents and his school knew about his condition and supported him. Now that he is more independent at senior school and has a wider circle of friends, I ensure that he has regular refresher training on how to use his EpiPen. This is no job for the faint-hearted and I hope he never has to use it.
I have explained to him, that he is not the only person in the UK with a nut allergy and that he needs to start feeling confident when starting a dialogue with the server at a restaurant about his allergy. He found this difficult at first and progress was slow, until he decided that it was more important to look after his safety than his food interest. He realised that by highlighting the fact that he has a nut allergy, not only spared him from having to 'stab' himself with an EpiPen, followed by a possible overnight stay in hospital, but that he would also be raising awareness of allergens in general. One of his friends did end up in hospital because a product purchased in a supermarket was mislabelled. Whilst the young man has made a full recovery, the incident has unnerved him and his family, and they have had to become even more vigilant.
Is there still some work to be done in restaurants?
For a parent supporting a child who is coeliac, mislabelling or poor information available in some restaurants, means they will always have to worry about the implications of inadvertently eating wheat and other gluten-containing ingredients. Allergy sufferers regimentally read the ingredients list on packaging and menus, and can only trust that the information provided is accurate.
A number of the recent tragic allergenic deaths have been young people. Why do you think that is?
Most young people rely on their parents to ask for additional information at restaurants and cafes. Since the legislation in 2014, this information has improved, however, there are several restaurants who have high hygiene scores on their doors and are still not providing sufficient information regarding allergens. Coming to terms with the changes in diet are challenging when managing an allergy and the easier we make it for young people the better, thus reducing the health risk and reducing any potential embarrassment caused by symptoms, such as unsightly rashes.
If you could improve one thing in this area to help food allergy sufferers, what would it be?
I am a strong advocate of training and awareness programmes on allergens. Some restaurants and food manufacturing plants are doing an amazing job and most chefs and managers are now taking this hazard seriously. However, there are still a few hidden restaurants and plants that need more support with understanding the importance of allergens, and the consequences should it all go wrong. This is a food safety issue and it is as important as any other food hygiene issue.
Armed with training, supervision, detailed risk assessments, up-to-date raw material specifications and labels, a robust end-product labelling system and clear communication between chefs/NPD (new product development) and production staff, technical and restaurant servers, producing safe products can be achieved.