Welcome to the Midlands Branch. In this article, we will take you on a whistle-stop tour of the Branch, introduce you to some of our committee members and the companies and academic institutions that are represented in our region.
Midlands Branch is a lively, active group of volunteers based in and around the region. There are no definite geographical boundaries, but we are located in between the borders with Wales and East Anglia, up to Yorkshire and down to Oxfordshire-ish!
Our members are from a diverse range of food backgrounds, covering many food sector disciplines and a broad range of product expertise. We have experts in food safety, quality, regulatory, microbiology, sensory science, product development, project management, food processing, food analysis and innovation. Many members also volunteer in other IFST SIGs and committees, so we have many connections or networks running through IFST and the food industry. If we don't have the answer, we know someone who does!
Within the branch, we have representation from the food manufacturing industry, including some large global manufacturers with IFST group membership schemes, as well as a number of academic institutions who offer a variety of food-related courses. The Food Innovation Centre based at Sutton Bonington bridges the gap between industry and academia, working with SME's in the region to help transfer knowledge from research undertaken at the University of Nottingham.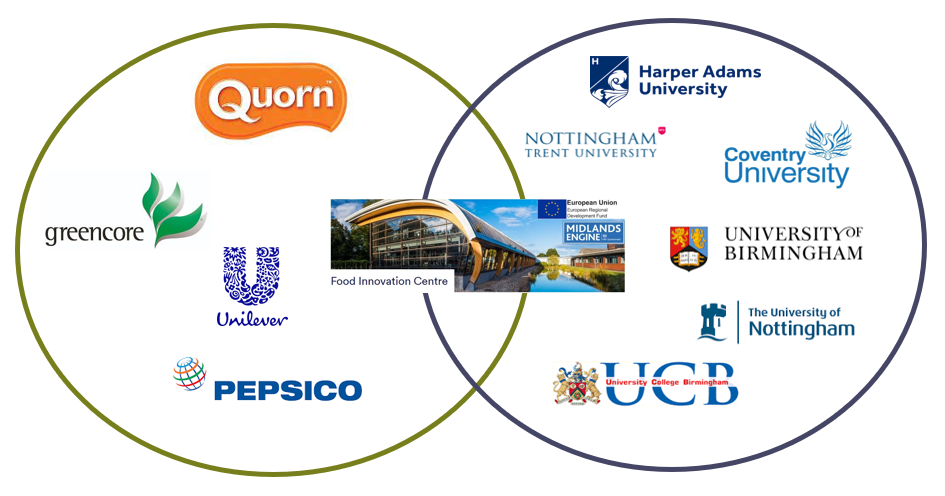 Graphic showing the representation of the Food Industry and Academia within IFST Midlands Branch
To showcase the diverse range of product expertise and knowledge within the branch, we can tantalise your taste buds with a smorgasbord of delicacies such as a range of baby foods, salads and dressings, coated foods, pizzas, burgers and fries, cheeses, hams and sausages, meat-free choices, savoury snacks and nuts. Those with a sweet tooth can enjoy a selection of sweet treats including dried fruits, biscuits, and ice creams. All washed down with something from our extensive drinks menu offering a choice of fruit juices, coffee, tea, cider, energy drinks and iced tea. We have the expertise to develop, produce, package, specify and ensure the safety of all these product types, and we also have expertise in sensory and consumer testing.
In the pre-pandemic era, we we
re very active in arranging technical and site visits and networking meetings, hosting satellite events for IFST lectures and hosting IFST National events in our region. We are looking forward to continuing our programme of events as soon as practical. A few memories from our photo album show the range of activities we have enjoyed.
| | |
| --- | --- |
| | |
| Starkeys Fruit Farm, Southwell | Clifton Packaging, Leicester |
| | |
| Small Food Bakery, Nottingham | Tennants Fine Chemicals, Leek |
| | |
| Held at Nottingham Trent University | Visit to Eurofins, Wolverhampton |
We asked some of our committee members to share what being part of the Midlands Branch means to them.
Andy Kerridge, Consultant, Chair of Midlands Branch: "Whilst the transport links in the Midlands are great and I can reach events anywhere in the UK, it is fantastic to have a local branch and be able to have meetings and events which are convenient for the local food professionals."
Alice Jones, Senior Food Innovation Advisor, Branch Member: "My career has either involved me working in an SME food manufacturing business or with SMEs. Being part of the Midlands branch of IFST has been instrumental in connecting me with my peers in the local area, to share ideas on working approaches, and has helped me find consultants and experts that I can work with."
We hope this has given you a taster of the Midlands branch and a flavour of who we are and what we do.