A message from our Chief Executive - Jon Poole    
COVID-19 has changed all of our lives so fundamentally in so many ways. As well as the critical health concerns, it has brought into sharp focus the importance of food and, in particular, the availability of healthy and safe food through our very complex food supply chains. 
As with health, it is the science which must drive the decisions of Governments, the food sector and consumers over the coming weeks and IFST is uniquely placed to provide an independent source of reliable and practical information for all these perspectives. We have brought together a COVID-19 Advisory Group to help guide us in our work and thank them for the incredible voluntary input they are providing. I would also call upon all our members to input to our work in whatever form they can at this critical time. #foodheroes
Coronaviruses and COVID-19 Background 
COVID-19 is 'the name of the disease caused by the novel coronavirus, SARS-CoV-2; short for Coronavirus Disease 2019'.(
Source: WHO
), as opposed to the name of the virus itself.
...Join our webinar next week (20 May) for Part 3! In this webinar our three speakers will provide guidance for those public-facing food businesses that are contemplating a 4 July re-opening or are actively exploring new ways of doing business. Particularly of value to businesses that are transitioning into takeaway, home-delivery and other food services. Find out more here.
Supporting your businesses
Guidance for SME Food Operations
Guidance for Larger Food Operations
Guidance from SALSA
Written by experienced food safety experts, SALSA is a robust and effective food safety certification scheme for the UK's smaller food producers and processors. Above all else, the SALSA scheme exists to encourage and assist small and micro businesses to implement practices and controls that produce food that is consistently safe.
SALSA approval is only granted to suppliers who are able to demonstrate to an auditor that they are able to produce safe and legal food and are committed to continually meeting the requirements of the SALSA standard. Approved suppliers can demonstrate that they operate to standards that are recognised and accepted across the industry and exceed the minimum standards expected by enforcement authorities. Our members' company profiles are visible to regional and national buyers through the SALSA Directory.
The SALSA scheme aims to support, encourage and help develop small businesses as they grow - providing food safety training, an online library of technical guides and a dedicated Technical Helpline. Food businesses can also access 1-2-1 technical support from our national cohort of professionally qualified and trained mentors – simply search the Mentor Directory or call the Technical Helpline on 01295 724248 to find out more.
SALSA Mentor Directory  SALSA's national team of Mentors are all food industry professionals, whose experience and expertise has been validated by the Institute of Food Science and Technology (IFST). Use this directory to meet our Mentors and find technical support near you. SALSA Mentors are pleased to offer a free half-hour introductory phone call. Please call SALSA on 01295 724248 or email info@salsafood.co.uk and SALSA will be happy to arrange this for you.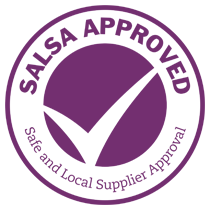 IFST Continuity During COVID-19 | For Members
IFST continue to actively engage with our members and wider stakeholders in these unique times. Whilst we have cancelled face-to-face meetings, our events have gone on-line, and our communities and special interest groups continue to meet through video conferencing. 
Other key resources
In response to the continuing COVID-19 crisis, IFST has set up an expert group to provide reliable information on technical issues raised by both consumers and the Food Industry.
IFST's values include our commitment to provide independent, authoritative evidence-based science. 
In signposting material and resources from other organisations, we cannot accept liability for their content, nor do we underwrite such commercial messages that they may contain.
For further information on the Institute and its activities, please visit www.ifst.org