We would like to congratulate the winners and runner's up of the Ecotrophelia Europe competition. The winners were announced Monday 7 October 2019 after the competition was held in Cologne, Germany.
France – Gold €5000
Product: L'oRIZginal, a tasty plant-based dessert made from organic French ingredients.
Spain – Silver €3000
Product: Mr Pinx, edible sticks created to generate new sensory experiences from an eco-friendly approach.
Germany – Bronze €2000
Product: TempSta, a nutritious savoury cracker made of organically grown peas fermented by means of a fungus.
The Communication Strategy award was given to Slovenia – €500
Product: Kefya, a new family of innovative organic kefir spreads with crunchy vegetables.
We are very proud that Team Venergy, from the University of Reading, reached the finals and represented the UK. Julian Cooper, Chair Scientific Committee and Board Trustee, IFST, said, "The Reading team had a once in a lifetime experience to be present at one of the world's largest food expos and explore the breadth and depth of our great industry. What a superb start to what we hope will be long careers in our industry. We look forward to more teams entering the competition next year."
Ecotrophelia challenges teams of students from across Europe to develop an innovative, eco-friendly food and drink product. From idea generation through to the final packaged product, the teams get a hands-on experience of new product development. Previous UK entries and finalists included;
Venergy: Lemon and lime energy sweets providing endurance athletes with a vegan sustainable alternative to energy products, by tackling issues with ingredient and packaging sustainability
Caruffle: A truffle made from carob and hazelnut, with a mixed fruit jelly centre and rolled in popped and ground quinoa
Keesh: A vegan, gluten-free and reduced fat quiche-like product made of a sweet potato base packed with roasted vegetables in a chickpea flour filling
Cubiies: A vegan, tooth friendly gummy sweets primarily made from vegetables aimed at 5–12-year olds.
Favilicious: An orange (pepper and tomato), pink (beetroot) and green (spinach and herb) 'hummus style' fava bean dip
Bertrand Emond, Head of Membership and Training at Campden BRI and member of the judging panel, said:
"The food and drink industry is particularly dynamic and continues to present challenges, particularly those related to innovation and sustainability. To ensure the industry continues to grow and meet these challenges both now and, in the future, it is essential to attract creative, intelligent, gifted students. Ecotrophelia encourages the brightest students to consider a career in the food and drink sector and gives them a unique opportunity to participate in a 'real-life' food innovation and development process and gain key practical skills that you just cannot get from a text book. As the world's largest independent membership-based organisation carrying out research and development for the global food and drinks industry, we are committed to supporting young and emerging talent in the food and drink industry and are proud to support Ecotrophelia."
Andrew Gardner, Operations Director at IFST said: "IFST supports Ecotrophelia because it sparks ideas, ignite careers, and develops the next generation of innovative and talented leaders. I can't wait to see what brilliant ideas and innovative products the teams will create next year."
Ecotrophelia UK 2020 will take place next summer. Full details on how to enter will be published soon. Register your interest today!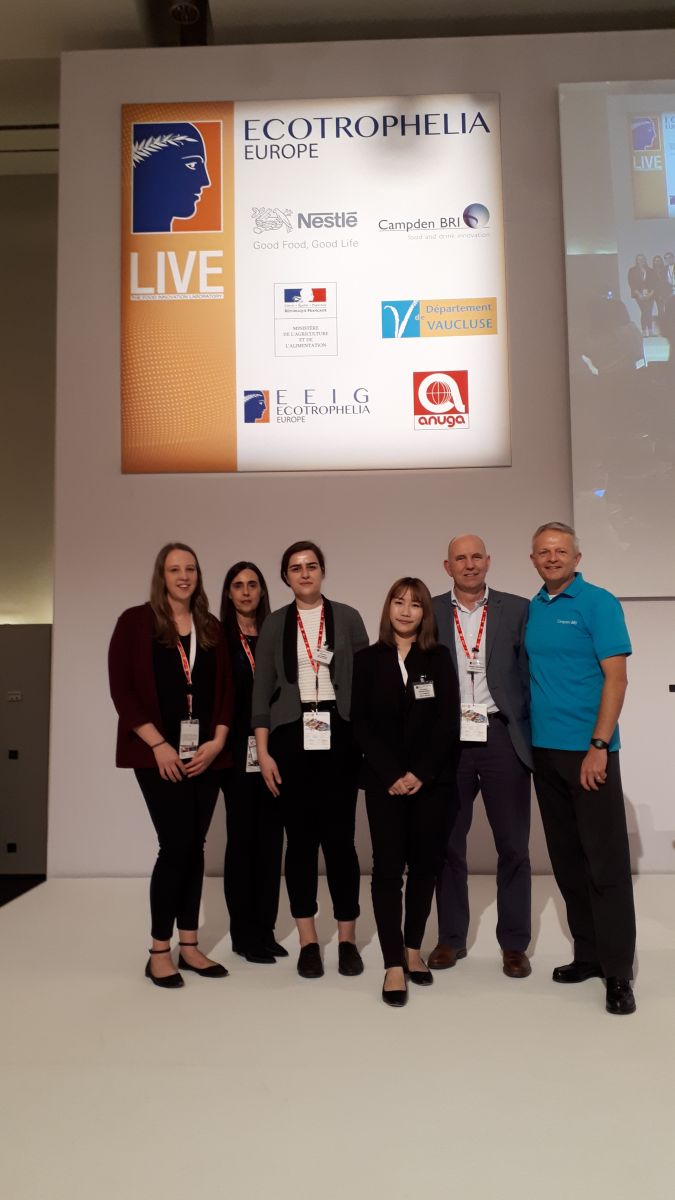 Julian Cooper & Bertrand Emond with Team Venergy at the Ecotrophelia EU finals.