The Food Safety Group provides members interested in food safety with an opportunity to engage and share knowledge with others. It has a broad scope, covering all areas related to safety, including chemical, microbiological and physical contaminants as well as allergens. It also considers topics such as analytical techniques, food safety culture and food fraud prevention, and contributes to relevant publications.
The Group has held quarterly morning (breakfast) meetings in London, generally featuring a single speaker on a hot topic, followed by questions and a round-table discussion on key issues.
The format and programme for 2020 is currently being reviewed to determine what is the most suitable approach. We will be actively encouraging input from new members.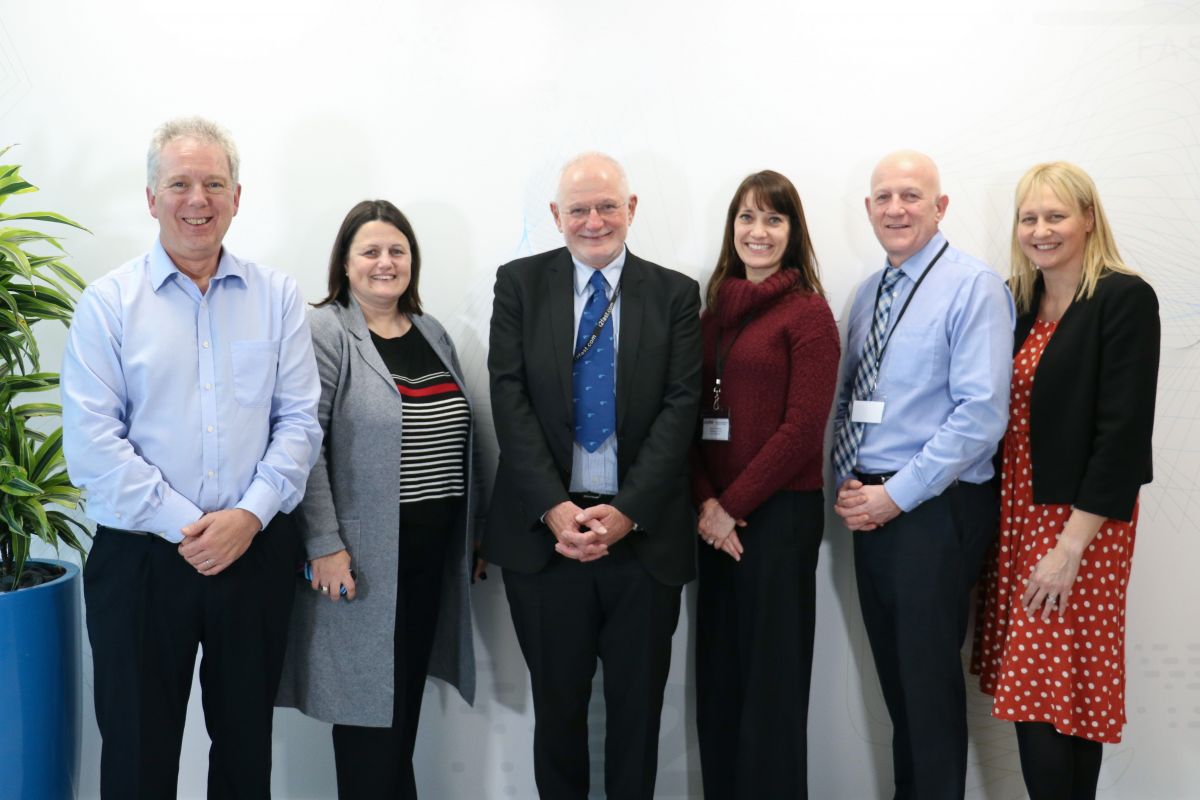 Meet the Food Safety Group Committee
Chair: Sterling Crew
Vice Chair: Andy Kerridge
Events: Denis Treacy
Core: Titilola Adejuyigbe, Sonia Andre, Ben Dodridge, Alison Friel,  Damian Hankin, Sarah Howarth, Sue Howlett, Alex Kent, Jude Mason, Anita Park, Fidelma Pogorelow, Bárbara Serra, Tom Sheehan, Liz Ward
Other: John Globe, Kaarin Goodburn, Velimir Kirov, Peter Littleton, Peter McClure, Clare Menezes, Dave Sherring, Susan Smith, Frances Strain, Rachel Ward
Sonia Andre, FIFST, RFoodSM, had been working in quality and technical management within the food and drink industry for over 20 years (mostly in Fresh Produce) when she went freelance in 2018. Qualified as a BRC lead auditor, Highfield approved trainer, IFST registered Food Safety Manager and Food Auditor & Mentor, Sonia helps businesses, in the UK and overseas, on a range of topics such as food safety systems, quality management and improvement, certification projects, etc, through auditing, training, mentoring, consulting and expert support. 
Sterling Crew FIFST, has 35 years' experience of working in the field of food safety and global supply chain governance. Sterling started his career in government before a successful track history in retail. Sterling's experience as a regulator, retailer, brand owner and food manufacturer has given him a unique perspective of the challenges of the global food supply network. He Chairs the IFST Food Safety Group.
Alison Friel MIFST has 25 years of experience in the food industry, she started with a manufacturing background in various technical roles before working in own-label product management for leading foodservice and retailers in the UK. Since 2017 Alison has been working in the Certification Body sector and currently leads the Technical Advisory Services (TAS) Team for SAI Global.
John Globe, FIFST, has been in and around the food industry his entire working life. Direct work experience has been mostly quality management of low-risk food, preceded by short periods in other functions followed by 20 years as a Lead Auditor with certification body LRQA – ISO 9001 in food and other industry sectors, BRC (early versions), ISO 22000, FSSC 22000 and other standards/schemes. He became an independent auditor/consultant 10 years ago when the majority of the work was for LRQA. He is semi-retired and is now mostly involved with small brewery audits (SIBA FSQ scheme) and ISO 9001 consultancy for one non-food client.
Damian Hankin, MIFST, has 27 years of food manufacturing experience working in management positions within hygiene, quality and technical. He graduated from Salford University in 1992, before taking up his first food safety role with Dalehead foods. He is currently a BRC food auditor, ATP and member of a GFSI technical working group, as well as the food safety specialist for Control Union UK. 
Sarah Howarth CSci, FIFST, is a food industry professional with more than 30 years' experience in technical Retail and Food Manufacturing roles. Her experience spans across the UK and Europe working for a range of food businesses. Prior to establishing Howarth Food Safety Ltd, Sarah was Head of Cargill Europe Grains and Oilseeds Product Assurance Team based in Rotterdam. Her consultancy focuses on food safety certification, labelling compliance and training.
Alex Kent, Hon. FIFST graduated in Food Science at Leeds and held technical roles at Marks & Spencer, Unilever and more. He has also been a teacher and worked for Trading Standards. Prior to retirement, he helped small businesses with food safety systems through the SALSA scheme. Alex previously served as Hon. Treasurer and Hon. Secretary of IFST, and now is the Independent Assessor.
Andy Kerridge FIFST has 25+ years' experience in food technology/quality & safety management; working in Europe, Middle East & Africa. His career started in the meat industry and continued in foodservice. He has been involved in the development of issues 4-7 of the BRC Global Food Standard. Since 2012, he now helps companies meet demands of quality, safety & consistency. Andy is also Chair of IFST Midlands Branch.
Peter Littleton RFoodSP, MIFST, is Technical Director for Christeyns Food Hygiene Ltd. Peter works extensively with special interest groups, such as the Anaphylaxis Campaign, research organisations, universities and retailers as well as chairing the Processing, Operations and Preservation Member Interest Group at Campden BRI.
Jude Mason, FIFST, is a food industry professional with more than 25 years experience in technical and senior management roles within retail, manufacturing and certification bodies.  Jude runs her own business, Succour Limited, a consulting and technical service provider to the food industry.  Her key areas of expertise cover: private label programme development, consulting, training, food fraud, supplier auditing and supplier and product quality assurance.
Peter McClure MIFST, has over 20 years' experience at Unilever, recently in the Safety and Environmental Assurance Centre, as the Science Lead for Microbiological Safety. As Principal Microbiologist, he contributes to the development of food safety programmes rolled out across the globe. Peter is a member of the International Commission on Microbiological Specifications for Foods, and the Advisory Committee on the Microbiological Safety of Food in the UK.
Clare Menezes RFoodSP, FIFST, has more than 20 years in the herb and spice industry holding various technical roles including microbiology, food safety, quality assurance, supplier quality and regulatory responsibilities. Today she is Director Global Food Integrity for the Global Quality & Food Safety Centre of Excellence, one of her key areas of focus is herbs and spice integrity and specifically supply chain vulnerability management, as part of the McCormick global authenticity programme.  
Anita Park MIFST is the Managing Director of Food Safe Consultancy & Advisory Ltd (FSC&A). She has worked in the UK Food Manufacturing Industry for over 11 years and gained experience in areas of Hygiene, Process Control, Quality Control and Assurance, Technical Auditing, Quality & Technical Management and Supplier Assurance. She works with a vast range of products including preserved foods, fresh meats, canned fruit & veg, condiments, cereals, processed produce and tea packing. Anita worked with all major retailer standards and drove sites towards compliance with their requirements.
Fidelma Pogorelow RFoodSM, MIFST, is qualified in Food Science with over 25 years' experience, in various technical roles, ranging from raw meat, fish and eggs to cooked chill meals and ready to eat products. She is also qualified in Level 4 HACCP, and auditing, experienced in developing quality systems, training sessions and auditing programmes. Fidelma works with companies to achieve third party accreditation in BRCGS and SALSA and also works with the Food Standards Agency auditors and Environmental Health officers.
Denis Treacy FIFST, has 40 years of industry experience, including roles in Unilever, Arla Foods, InBev and more recently as President and Chief Safety, Quality, Security and Environment Officer for Pladis Global. He now heads Culture Compass Ltd. which helps businesses to deliver transformational performance improvements, in areas of safety and quality strategy, continuous improvement, business culture, change management and organisational transformation.  
Liz Ward, RFoodSM, MIFST, is the Director, Global Quality Systems & Food Safety at McCormick, where she has worked for 18 years. She is responsible for providing global governance for many McCormick Food Safety programmes including allergens, incident management and the global factory QMS audit programme. She has a strong interest in Food Safety Culture programmes and is leading the global programme. She is an active member of the FDF Allergen Steering Group.
Dr Rachel Ward FIFST is an experienced international food risk manager with over 25 years' experience across various technical roles in quality assurance, food safety and regulatory affairs. Rachel has worked with a diverse range of businesses on ensuring quality, food safety, and regulatory compliance. She now combines working as Scientific Policy Director at IFST with freelance consultancy.
Register of Food Safety Professionals
IFST's Register of Food Safety Professionals (RFSP) recognises those working at all levels within food safety throughout the sector and helps build a unified platform for food safety compliance across the food industry and the safety auditing process. The Register offers a three-tiered formal framework that provides an assurance of each registrant's experience, excellence and professionalism in food safety and integrity.
World Food Safety Day 2019
Sterling Crew, Chair of the IFST's Food Safety Group talks to Andy Kerridge ahead of the first-ever World Food Safety Day on 7 June 2019. Andy provides food safety & technology expertise to the food industry through his company, Wyvern Food Solutions Ltd, based in East Midlands. He has over 30 years of experience in manufacture and foodservice, together with work in developing markets.
In celebration of the first-ever World Food Safety Day on 7 June 2019, we interviewed Denis Treacy FIFST, Chief Technical Officer, Culture Compass Ltd who tells us why he chose a career in food safety and what challenges food safety and quality professionals currently face. 
We value the important contribution that volunteers bring to the work and life of the Institute. Without the contribution of the volunteers who serve on committees, branches and special interest groups, we would find it difficult to achieve the strategic priorities set out by the Board of Trustees. The Impact Award is an opportunity for volunteers to showcase an innovative activity which has been undertaken which meets the following criteria.
Is new and has been undertaken in the last 12 months which delivers measurable impact to any/any/all IFSTs strategic priorities, or
Is an existing activity which has undergone an adaptation or change in order to deliver an enhanced impact linked to any/all of IFSTs strategic priorities, and which 
Is scalable and sustainable. 
Previous winners:
2020 IFST Northern Ireland Branch and Eastern Branch 
2019 IFST Student Group
2018 IFST Student Group
2017 IFST Sensory Science Group
Find out more about the previous winners, entry criteria and submissions here.