Attendees: Stephen Timms, Jane Robertshaw, Carol Raithatha, Philip Bailey, Allan Gunning, John Harrison and Ayuen Lual.
The event was attended by seven eastern region members and congratulations to Ayuen for 'winning' the furthest to travel having endured the train ride from Oxford!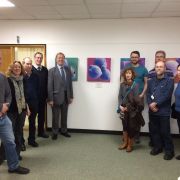 It was a very worthwhile and very interesting event hosted by NCYC (The National Collection of Yeast Cultures) which is based at the Institute of Food Research (IFR) which is part of the Norwich Research Park.
Our thanks go out to Carmen, Ian, Chris, Steve, and Adam; our hosts from the NCYC and Biorefinery Centre.
The NCYC is the UK's premier collection of yeast cultures, holding over 4000 (currently 4164) strains collected over 65 years. They have large collections of brewing yeast, genetically-defined yeast (used in many applications including cancer research), yeast associated with food spoilage and yeast of medical and industrial importance.
NCYC originated as a brewing yeast collection and in 1948 became a National collection. It wasn't until 1981 that it was housed (along with its 530+ strain isolations) into its new home at the Institute of Food Research based in Norwich.
Not with standing this, in 2018 the facility may well be moving again to purpose built premises, the Quadram Institute, still based in Norwich.
Having already isolated 4164 strains of yeast from brewing, spoilage and environmental sources the NCYC continues to go from strength to strength with a Norwich based team that spans decades of experience and a liquid nitrogen preserved sample of every isolation. As part of the visit we were escorted around the laboratory where isolations/samples are prepared for freezing.
For those of us that like a 'tipple' NCYC have isolated over 450 strains of yeast for brewing. Currently, 334 for ale, 79 for lager, 6 for distilled and 31 for wine.
However, having previously associated yeasts with brewing, baking and spoilage we were amazed to hear that they are also associated with the production of a range of useful chemicals and as a part of the visit we were lucky to visit the Biorefinery Centre.
The Biorefinery Centre focuses in a number of areas but currently the main theme appears to be the utilisation of biomass and the production of bioethanol. Not with standing this, various strains of yeasts are able to produce a range of useful building blocks and platform chemicals, such as succinic acid, and many others.
Genome mining for genetic variants is another function that occurs within the Research Park.
What does the future look like?
With ever increasing focus on health and wellbeing it is likely that future requirements will be placed on yeasts in the human gut and what that means for us all! Further exciting times for NCYC.
John Harrison