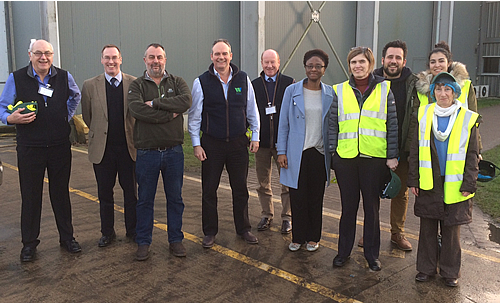 Eight attendees from IFST were given a fascinating insight into the backstory and current operations at AH Worth by Duncan Worth, whose great grandfather started farming in the area over 115 years ago. Also in attendance was Gordon Corner, Regional Director for NFU, who provided valuable input and comment on a number of topical issues affecting our food supply chain (e.g. the current scarcity of certain non-native vegetables from UK supermarket shelves, the potential withdrawing from use of the permitted weed killer glyphosate, practical farming issues surrounding the suspension in UK of using neo-nicotinoids and the requirement of certain Stewardship schemes to take land out of production). The visit commenced with an overview of the Worth Farms / QV Foods businesses followed by the group being driven on a farm tour in 2 vehicles and then walked through the pack house where processing of potatoes was seen from Intake through Washing / Grading / Sorting to Bagging and robotic palletisation ( loading of plastic crates ) ready for Despatch.
Today over 5,000 acres are farmed with 10 people at Worth Farms, not including those employed in the packhouse ( 20 years ago it was 2,000 acres with c.20 people ). The business is 95% energy self-sufficient ( 92.5% from the onsite 1.5MW AD plant + 2.5% from solar panels on roofs, none on the ground ). Approx 15,000 tonnes of potatoes p.a. are supplied to QV Foods from the farm.
The AH Worth group ( incl QV Foods ) has approx. £150M 'route to market' sales of which the majority is retail potatoes. Other components of the revenue stream include veg ( incl salad crops ) & "prepared" garnished potatoes with other veg ready to cook. Worth Farms is a LEAF accredited site that also grows petits pois peas ( sent to Pinguin Foods at Kings Lynn ). Just recently the farm has moved to an 8-year rotation, using wheat as a break crop. Mustard is grown on the farm and is useful for its biocidal compounds – prior to spring cropping its volunteers can be ploughed in to aid control of soil borne diseases.
The IFST group learnt that generally potatoes with a higher Dry Matter content are more prone to bruising; and that drops in the production process need to be kept to a minimum to prevent bruising. Our group also heard the importance of timing water application during growth; if correct ( and adequate ) this avoids lesions on the tuber, specifically with the variety Maris Piper. Our IFST group was also informed about the optimum temperatures for storing potatoes ( long term below 3C but at 8C for handling prior to despatch ). Potatoes are taken from the line and also from stored ( shelf-life ) samples to check cooking characteristics but most quality control is pack-related (i.e. physical checks rather than chemical or microbiological ).
Internal blackening during storage is a challenge since it cannot be spotted easily until the tuber is cut open - some varieties are more susceptible than others. This topic was of particular interest to at least one of the IFST group who had journeyed from Cranfield to join the visit.
Our group also heard the variety Cara, whilst generally regarded as a high yielding variety, is multiplies PCN ( potato cyst nematode ) causing potential problems for the next potato crop in the rotation. Other varieties mentioned during the visit included Maris Piper ( a named variety on many retail bags instead of the generic "white potato" ). Red potato varieties mentioned were Desiree and Mozart. Customers include M&S, Aldi, Asda, chip shop wholesalers ( Chippy Chips ).
The Eastern Branch of IFST would like to offer thanks to Gordon Corner for helping arrange this visit and to Duncan Worth for allowing us onto his farm and for being a splendid host.