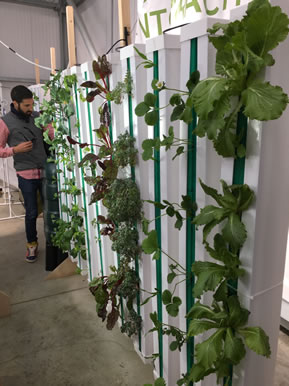 Several times in one's life, you come across an invention that has such far-reaching applications for the benefit of mankind that the mind boggles. Our Technical Visit on Friday, 5 May by a 7-strong group, including four IFST Eastern Branch members, to Aponic Ltd., at the NIAB Innovation Centre, near Soham, Cambridgeshire was such an occasion.
Founder and inventor Jason Hawkins-Row presented his latest project, an aeroponic growing system in which plants are grown in vertical plastic tubes. After assembling the flat-packed, lightweight tubes arrive and, after assembly, seedlings are clamped in sponge jaws, the edible part on the outside; roots on the inside.
Using solar power and rainwater, a fine mist of water containing nutrients is sprayed into the tube for 10 seconds every 20 minutes, reducing water usage by 90% less than traditional agriculture. Other advantages include: -
shorter crop cycles; no soil, substrate or crop rotation required,
free from pathogens, weeds and pests; no pest or disease control, crop sprays needed.
space efficient - systems can be located on depleted soil, brown-field sites, etc.
Having recently read of the travails of Mark Watney, the main character in Andy Weir's best-seller 'The Martian', I asked tongue-in-cheek if NASA had been in touch. "No", came the reply, but the European Space Agency had called.
Bob Bowman