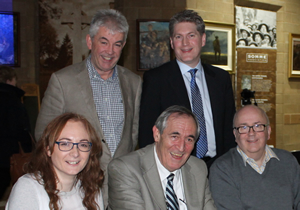 On Thursday 18th February 2016 the Northern Ireland Science Festival sprang into life. IFST was part of the launch as, with RSC, we hosted Prof Mike Gibney at the Somme Heritage Centre.
Professor Gibney, in a broad sweep of nutritional history stretching back to the Boer war, exhibited evidence roundly to trounce the proposition 'we ate better during wartime rationing as it was scientifically controlled'. With many troops in the 19th and early 20th centuries unfit for active service owing to nutritional deficiencies, and the raft of Nobel prises in the 20's and 30's for work on vitamins, Mike showed how scientific studies of nutrition were important for national security as well as health and wellbeing. Surrounded by wartime memorabilia he provided fascinating insights into the work of nutrition research pioneers such as Robert McCance (an Ulsterman) and Elsie Widdowson (of McCance and Widdowson's The Composition of Foods fame). The Government were at first reluctant to publish their findings seen as important to national security - the diet of servicemen undergoing strenuous exercise. Mike also discussed the work and influence of Ancel Keys, the American equivalent of McCance and Widdowson. Keys studied the epidemiology of cardiovascular disease and introduced to the world the eponymous 'K-rations', formulated as balanced meals for combat soldiers in World War II, and the Mediterranean diet.
Coming right up to date Mike cited recent papers in support of the UK nutrition guidelines showing that the guidelines haven't changed since the 1970's (despite what the media might suggest) and if followed can make a real difference to population CVD outcomes. But he also showed that better nutrition, hygiene and medicine have been steadily benefitting health and life expectance for over 100 years. And - a surprise to many in the audience - obesity has also been steadily on the increase for over 100 years.
Dismissing fads and the enthusiasms of single issue protagonists Mike extolled the virtues of the sound nutritional principles based on extensive scientific evidence of the current nutrition guidelines. But, citing the wartime work of Frederick Marquis, 1st Viscount Woolton in publicising good nutrition, ("Help Win the War on the Kitchen Front") he did venture to suggest that if similarly large resources were to be available today the battle against obesity would be more easily won.
The evening, which attracted an audience of 70, was introduced by Carol Walker CEx of the Somme Heritage Centre, Chaired by Professor Paul Stevenson and the lively Q&A was chaired by Dr David McCleery, Chair IFST NI. IFST President, Professor Maureen Edmondson was in attendance. The organisers were Dermot Hanna (RSC) and Michael Walker (IFST) and we are grateful to Maureen Edmondson for securing such an excellent speaker, the Somme Heritage Centre for an iconic venue and of course Prof Gibney for his time and expertise. Looking for more sound advice on nutrition – see Prof Gibney's blogspot.