We had originally thought that arranging a visit to a garden in mid-September might carry the risk of rain, but September 13th turned out to be the hottest day of the year, so armed with bottles of water, almost 20 South East Branch members assembled outside the café at the Chelsea physic Garden.
We had a fascinating tour of the gardens, which lasted nearly two hours, during which we were shown all the main features and attractions. We started with the Pond Rockery, originally constructed in 1773 and thought to be the oldest rock garden in Europe. The rockery features masonry that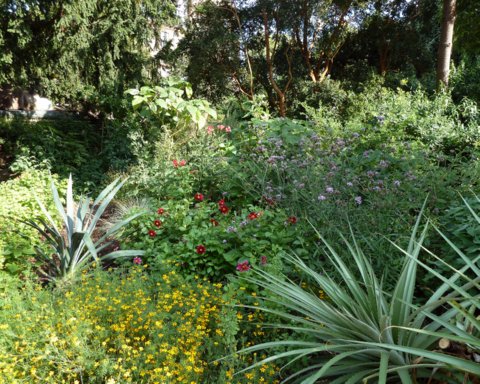 was originally part of the Tower of London, as well as a profusion of Mediterranean plants.
Our party then moved on to the Garden of Medicinal Plants, where the planting is arranged according to the type of maladies that the plants can cure. Plants form the basis of around a quarter of all modern western medicines and it was enlightening to see the origins of so many useful drugs, which in many cases were illustrated by modern packaging, displayed in glass cases near to the relevant plants.
The next stop was the Dicotyledon Order Beds, where plants are displayed in separate beds according to their families. It was surprising to see how extended some of these families are and to see apparently unrelated plants all together. There are over 800 plants in this area, all displayed using the systems developed by Bentham and Hooker.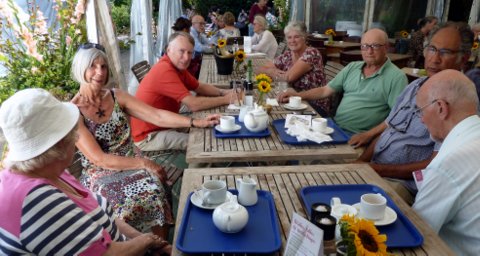 By now, the heat was beginning to affect us all, so we headed to the World Woodland Garden for some shade. The area is divided into three regions, displaying woodland plants from Europe, Asia and the Americas as well as some magnificent trees including Ginkgo Biloba and Paper Mulberry.
We were now free to wander around on our own, so we bade farewell to our knowledgeable guide and headed off to the café for some refreshment before spending some more time taking in the joys of this wonderful garden, hidden in a corner of Chelsea.
by Richard Benson