Talk given to IFST South Eastern Branch meeting on 26 October 2016.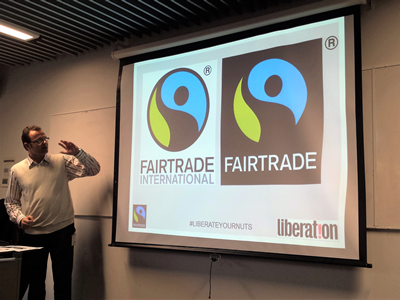 IFST South Eastern Branch arranged a free meeting on 26th October at London South Bank University, particularly aimed at students from South Bank and other London Universities.
About 60 students and IFST members initially heard a presentation from IFST Student Group member, Anna Monaghan and IFST Young Ambassador Daniel Clarke on their experiences of being associated with IFST, and the reasons why students should become members.
This was followed by the main speaker for the evening, Dan Binks, Technical Manager at Liberation Foods who spoke in detail about the Fairtrade movement, its origins and aims and benefits to communities in many countries across the world.
An explanation of the activities of Liberation Foods was given. Liberation is involved in the import and packing of various types of nuts from many countries, including central and south America, Africa and India. It deals solely with Fairtrade products.
The talk was accompanied by samples of nuts on which the audience snacked while listening to the presentation (advance publicity had contained an allergy warning).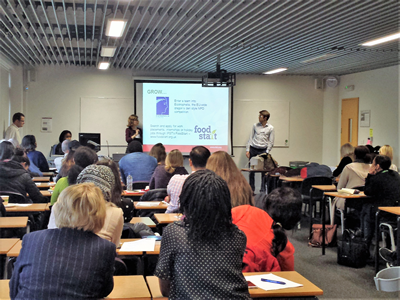 The Fairtrade Foundation is an independent organisation which licences the use of the Fairtrade Mark (a blue green and black roundel) for use on products which are subject to Fairtrade principles. Products bearing the Fairtrade logo are purchased from growers and farmers who receive at least the market price for their commodities, together with a Fairtrade premium This premium can be used as communities see fit and projects such as education, clean water supplies and medical care are among activities funded. Communities are thus able to take decisions affecting their futures, as well as having fair and guaranteed prices for their goods.
During the evening, a small group of students were invited to identify various types of nuts in a blind tasting. Only one of the three correctly identified peanuts, cashews and brazil nuts. Liberation Foods generously provided prizes for the winner and other participants.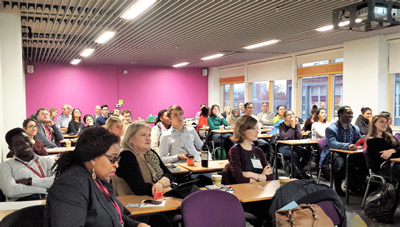 There was then an explanation about Brazil nuts. We now know that these are not farmed, but occur wild and the nuts are gathered rather than harvested.
There was a limited time available for questions, after which the speaker was thanked on behalf of the branch for presenting the talk, and for providing samples and prizes. There was no doubt about how passionate Dan felt about his job and when there is a lot of negative media coverage about the food industry, it is good to know that across the world great work is being done to help poorer communities.
Purchasing Fairtrade products can make a real difference to the lives of people in many countries across the globe.
by David Boniface