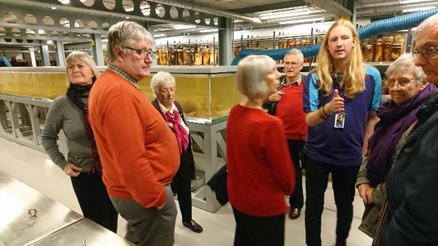 This year 16 members and their partners were treated to an informative "Behind the Scenes" guided tour of the Natural History Museum in South Kensington. This was a rare opportunity to see a very few of the 80 million preserved specimens held in special storage facilities in the museum. This collection includes specimens collected by the original benefactor of the museum Sir Hans Sloane in 1753, but it was Sir Richard Owen (the originator of the name "dinosaurs") who worked to open the first Natural History Museum in 1881, and move all the then collection from the British Museum.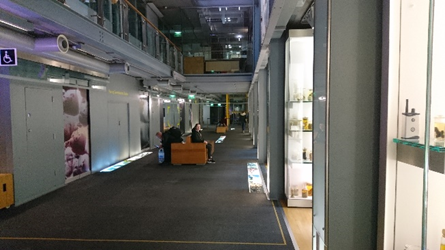 The architect Alfred Waterhouse, who also designed the Law Courts, made the building which is clear in the main Hintze Hall modelled on a cathedral, except for the steel struts (reminiscent of a railway station).
Modern temperature controlled facilities have been built to house the collection, which is mainly preserved in industrial alcohol in appropriately sized glass containers. Larger specimens are treated with formaldehyde first before adding the alcohol. Since alcohol denatures the DNA, which is used for classification research being under-taken in the Museum, more recent specimens are preserved in glycerol. The best example of this is in the Hintze Hall where a marlin fish, whose body is at least 2 metres long, is preserved in £10,000 worth of glycerol.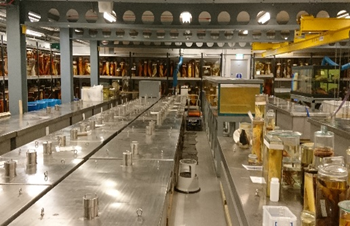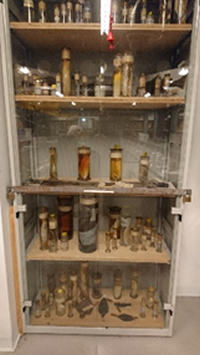 After moving into the basement storage, we finally entered a room which housed marine specimens. In this room we were shown the "extinct" Coeliocanth, two giant squid in a very long rectangular tank, as well as the unusual angler fish. The highlight of the visit was to see a cabinet filled with the original specimens collected during Darwin's voyage of the Beagle.
The visit lasted around an hour and there were two groups of 8 people taking part. After the tour 14 of us met in Hereford Arms nearby for a celebratory drink and meal. Thanks should go to Alex Kent for organising both the guided tours and the meal.
Mark Woolfe, Secretary of the SE Branch