14 November, Reception and Committee Rooms, Main Building, Sutton Bonington Campus, University of Nottingham, LE12 5 RD
Find out more and book your place today
 
Emma Gubisch, Head of Consumer and Sensory Insight at Leatherhead Food Research
Emma has experience is in delivering insight projects for a range of social and commercial clients, covering consumer attitudes and behaviour, concept development, product marketing and market trends. Emma's particular expertise is in understanding and interpreting the viewpoints of key audiences, from the consumer who picks the product off the shelf to the journalist who writes about the latest food and drink trends.
Abstract: Exploring the opportunities for personalisation in the food & beverage industry
Personalisation is generating a great deal of discussion in the food & drink industry. As technology opens up a world of possibilities to the consumer, allowing them to have what they want, when they want it, the food & drink industry is considering how it can respond. At one end of the spectrum, it could be a matter of customising or tailoring an existing product; at the other end, it could be related to individuals having a better understanding of their DNA and the bacteria in their stomach and choosing products which match their medical and health needs. Using insights from qualitative and quantitative research conducted with UK consumers in 2017 by Leatherhead Food Research, Emma Gubisch will explore consumers' attitudes and desires in relation to food and beverage personalisation.
Martha Skinner, Research Fellow, the University of Nottingham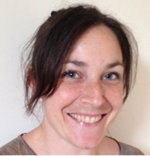 Martha is a Sensory Science research fellow in the Division of Food Science at the University of Nottingham. She completed her BSc in Human Nutrition at Bath Spa University before receiving her PhD in Sensory Science at Nottingham. Her PhD research combined sensory science and brain imaging techniques to investigate individual variation in oral perception across taste phenotype and genotype, with particular interest in PROP taster status and thermal taster status. Martha is an active member of the Institute of Food Science and Technology (IFST) Sensory Science Group, and the European Sensory Science Society (E3S) where she has focused on establishing both the UK and European sensory science groups aimed at students and early career researchers.
Abstract: What do we know about Thermal taster status, and what does it mean to be a Thermal Taster?
Thermal taster status was discovered in 2000 when researchers found individuals termed thermal tasters (TTs) perceive thermally induced taste (thermal taste) when the tongue is thermally stimulated in the absence of gustatory stimuli, while thermal non tasters (TnTs) only perceive temperature. This fascinating taster status has been found to influence oral sensitivity, which may impact product perception, food choice, and associated health outcomes. As many as 50% of a population are classified as TTs, making it an important phenotype to characterise and understand.
Nearly 20 years since its discovery, this talk will assess our current understanding of thermal taster status. Data collected at the University of Nottingham will be discussed, where a novel multidisciplinary approach was adopted to compare the response to oronasal stimuli across TTs and TnTs. Sensory science methods were used to measure perceptual responses between groups, and functional Magnetic Resonance Imaging (fMRI) techniques measured differences in the brain's response. Observed differences across thermal taster status groups will be highlighted, and the possible implication that this may have on food and beverage consumption will be discussed.
 
Xirui (Sherrie) Zhou, Post Doctoral Research Assistant, the University of Reading
Xirui (Sherrie) Zhou is currently working with Professor Lisa Methven, as a postdoctoral research assistant at the University of Reading. She completed her PhD at the University of Reading last year which considered individual variation in oral fat perception and its impact on consumer's fat consumption and preference, as well as exploring the underlying mechanisms causing such individual difference in oral perception.
The project that she is currently working on is funded by BBSCR and several industrial sponsors. It also focuses on individual differences in oral fat perception and in addition the influence of oral fat perception on satiety. The team hopes that the impact of such work will be in improving the reformulation of low-fat foods to maintain both consumer liking and satiety in the long term.
Abstract: Individual difference in oral fat perception, its impact on fat consumption and preference and the potential factors resulting in such individual difference
Fat can contribute to unique mouthfeel and recent studies proposed that fat can be perceived through the taste modality. Individuals possess different sensitivity to fat taste, and according to the research conducted in our group, we found that subjects showed different hedonic responses (liking) to foods rich in fat and this was influenced by their oral fat gustatory perception. In addition, subjects with high sensitivity to fat taste showed the stronger ability to differentiate the fat levels in a milk/cream model. In order to understanding the potential mechanisms underpinning individual oral fat perception, the role of salivary lipase and CD36 genotypes were examined, as well as other possible factors (such as fungiform papillae density etc.). Therefore, we explored these factors and their influence on oral fat perception, as well as their interrelationships. This presentation will discuss on the individual differences in oral fat perception, and the potential factors that result in such individual variation, as well as their interrelationships.