Printer-friendly version
Thursday, 5 October, 2017 - 18:30 to 21:30
The Bull Hotel Westgate, Peterborough, PE1 1RB
Book your place

JOHN BASSETT, BVSC, DIP.BUS.ADMIN, MRCVS, FIFST
POLICY AND SCIENTIFIC DEVELOPMENT DIRECTOR, IFST
John Bassett has nearly 20 years' experience of risk assessment and risk management, in both industry and government roles. A veterinarian by training, he brings a "farm to fork" perspective on food safety challenges.
He currently juggles two main roles; he is the Policy and Scientific Development Director with the Institute of Food Science and Technology, developing and communicating scientific policy on behalf of the institute, and also runs his own consultancy, John Bassett Consulting Ltd, which works with clients in the commercial food industry as well as governments and inter-governmental agencies.
John is particularly passionate about the practical use of 'risk-based' approaches in innovation and food safety management systems, for industry and in the application of optimal regulatory models – he is currently a member of FSA's expert advisory group supporting the 'Regulating our Future' activity.
 
Paul Fieldhouse
Management Consultant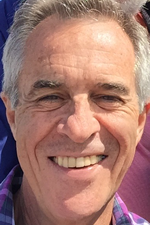 Paul specialises in delivering business growth through strategic marketing. Experienced working with boards, business owners & teams.
A knowledgeable management consultant with strong commercial and business development skills, Paul's advisory work revolves predominantly around the food sector. A former Chief Executive of a substantial private sector food business, he is familiar with all aspects of sustainable business growth and management development. His extensive senior operational experience has developed in him a keen instinct for commercially viable propositions and he is not afraid to challenge conventional wisdom as a means of stimulating creative thinking. His industry experience spans:-
Strategic planning
Sales & marketing
Initiating and developing profitable customer relationships
Mergers and Acquisitions
Following a successful corporate sector career in consumer goods, spanning sales and General management positions with Reckitt Benkiser, GlaxoSmithKline and the former Hillsdown Holdings, where he was Chief Executive of their UK Convenience Foods business, dealing with major grocery retailers. He went on to lead a management buy in of a food manufacturing business, supplying major airlines & foodservice companies.
A former chairman of the CFA (Chilled Foods Association) and member of the FDF (Food & Drink Federation) external relations committee, Paul has dealt with all stakeholders in food, including business, consumer groups and government. He has a wealth of food industry experience and he is particularly well connected and networked within the sector and the wider commercial world. Paul started his management consultancy career with WLP in 2001. Current retained clients include Quadram IB (formerly Institute of Food Research). 
Living near Stamford, Lincolnshire, Paul is actively involved with village life and a number of local and national charities. He is a former trustee of GBWR, Wheelchair Rugby, Rutland Sailability and an active committee member of Grocery Aid.
 
John Points
Consultant Analytical Scientist
John Points is an independent consultant on chemical safety and authenticity testing of food; how testing fits into an overall supply chain integrity strategy, where (and where not) testing is appropriate, risk-based testing plans, choice of test methods and laboratories,  interpretation of results.  He has audited in the EU, China and India.  John's career has included both managing a food testing laboratory and working in UK retail own-brand supply chain assurance, and he is a past and current advisor to UK and EU food regulators.  He has seen food integrity issues from all three sides of the fence.  If a fence can have three sides.
 
Louise Roberts
Managing Director, Alimenti Food Sciences Ltd

Louise Roberts is the Managing Director of Alimenti Food Sciences Ltd, which specialises in food safety and regulatory compliance. Alimenti Food Sciences Ltd was set up in response to a need that was identified for smaller businesses that do not have this expertise, particularly producers who are growing their businesses. Alimenti covers a wide range of disciplines, including technical management; business continuity, training and supply chain management.
Louise has a degree in microbiology, is a Registered Food Safety Manager and a Member of the Institute of Food Science and Technology (UK) and Institute of Food Technologists (USA). She has an ISO 22000 Lead Auditor accreditation and a Post-Graduate Certificate in Education (PGCE), as well as attending other professional courses, such as Practitioner in Business Continuity.
Louise has extensive experience in the field of food safety and quality management and has worked in the food service, retail and manufacturing industries. She has provided technical management and scientific advice regarding food safety to organizations such as Ministry of Defence; Tesco and Sodexo.