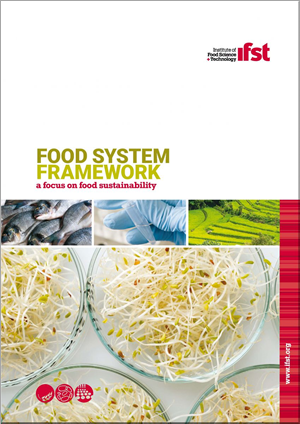 In 2018, we published a report on Sustainable Food Systems, which provides a framework for future activities and partnerships, to focus our efforts in what is an extremely large topic area. We recognise the valuable ongoing work by many organisations in this area and wish to engage where we can add the most value. If you or your organisation is interested in partnering with us in any of the areas discussed in the report, please contact Stephen French.
The sustainability of the food system is critical, to those of us working in the food sector and to every citizen on the planet. We are facing major challenges: increasing pressure on our environmental resources - water, soil, air, and biodiversity, within a context of climate change. We can expect subsequent social and economic changes that will impact the way we live and interact with our environment.
The food system is an integral part of the sustainability picture; the way we produce, transport, manufacture and consume food is both a problem and holds potential (if partial) solutions. IFST, as an organisation with a broad membership spanning the farm to fork continuum, as well as a charitable object to benefit the public, sees a role for it to help support and guide developments in this area, particularly where food science and technology can be leveraged to address the challenges we all face.
To guide us in our efforts, IFST has commissioned a Sustainable Food System framework document, downloadable here. The document outlines the areas of sustainability that are relevant for IFST, where we want to engage in this important, but extremely broad topic. The framework is intended as a beginning rather than a stand-alone piece of work, to guide the development of further, more specific outcomes that IFST can drive or support.
We aim to provide practical support for those looking to implement sustainable practices, and proactive messaging to encourage joined-up, evidence-based policy and strategy development by the UK government and food system stakeholders throughout the farm-to-fork continuum.
We recognise that there are many participants active in this area, with good work underway, and exciting new technologies being developed. IFST is therefore committed to working with interested partners to help speed progress in key areas or to bring focus to needs that may be currently overlooked. We will be speaking out more as we develop our activities; in the meantime, we welcome your comments and encourage you to look for opportunities to work with us to enhance our joint effectiveness.
For more information, or to reach out to us with ideas or comments, offers of partnership, etc, please contact Stephen French, Scientific Policy Director via s.french@ifst.org – we look forward to hearing from you.