FROM BUSH TO BAG  30 MARCH 2017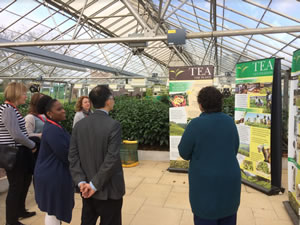 IFST Eastern Branch members brought together by a love of tea visited Unilever's research and development site at Colworth Science Park on Thursday 30th March. Unilever owns the world's biggest tea business, with an umbrella of brands including Lipton and PG Tips.
The visit was an insight into tea production 'from bush to bag', which began with a tour of the tea glasshouse and a demonstration of how tea is harvested and processed at Unilever's tea plantations. Members enjoyed learning about different tea species, cultivars and harvesting techniques that give rise to black, green and white teas, as well as tea horticulture and challenges of tea production.
The group then arrived at the Global Design Centre for beverages to learn about the art of tea blending and preparation for packaging into teabags. It was an opportunity to taste a variety of teas as well as discuss consumer habits on preparing tea in the home, which varies very widely across the world - from Masala Chai preparation in India to Macha Green tea ceremonies in Japan.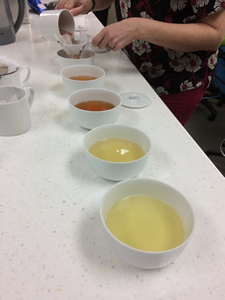 The third and final part of the day was a tour of the tea analytical labs, where scientists look closer at tea particulates and chemical profile. The colour of the tea infusion is also very important, and IFST members shared they own habits and preferences when it comes to making a brew!
In today's 'coffee culture' beverage market in Europe, it can be easy to forget just how important tea is, and the specificity of user habits each one of us develop during our lifetime. These habits can bring an air of familiarity when we are away from home (some of you reading this may even bring your own tea bags with you on holiday!), and prove to be much more complex than just whether or not you put the milk in first... or indeed none at all!
Report by Siobhan Gardner